Unilever is working with the World Resources Institute's Global Forest Watch platform to increase transparency in its supply chains with the aim of ending tropical deforestation.
The company's goal is to source 100% of its agricultural raw materials sustainably by 2020 – up from a third now – with a strong focus on biodiversity and zero net deforestation.
Using Global Forest Watch – which allows monitoring of specific forests in near-real time – Unilever will be able to see which suppliers are complying with sustainability standards for crucial commodities such as palm oil, soy and timber.
"This partnership will bring new focus to see where our risks are highest and to improve forest management," says Pier Luigi Sigismondi, Chief Supply Chain Officer for Unilever.
Based in the UK, some of Unilever's 1000 brands are Ben & Jerry's, Dove, Lipton, Vaseline and Hellman's.
One view on Global Forest Watch shows where forests are growing and shrinking: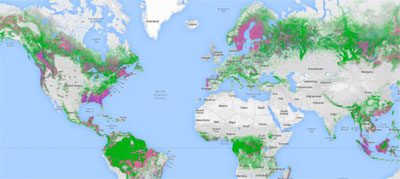 "Major consumer goods companies are waking up and realizing it's in their interest to protect forests and pursue sustainable business strategies," says Andrew Steer, CEO of World Resources Institute. "Reducing the risk of deforestation in commodity supply chains greatly reduces risks to reputation and supply chain disruption – it's also simply the right thing to do. Unilever has been one of the real leaders in this area and we are pleased to have the opportunity to work with them to promote better forest management and business practices. The effect of this partnership will ripple throughout global commodity supply chains."
The world lost 568 million acres of forest cover from 2000-2012, according to data from the University of Maryland and Google.
Recently, Oxfam called out the 10 biggest food companies for not doing anywhere near enough to cut greenhouse gas emissions, most of which come from their agricultural supply chains.
Unilever is alone among food companies in setting science-based targets and has ranked #1 among all corporations for its work on climate change.
Read our article, Nowhere To Hide From Global Forest Watch.
Check out the website:
(Visited 17,586 times, 9 visits today)