Although the cases are very different, for the second time, we're seeing a court case resolved based on climate change.
Incredibly, Massachusetts prosecutors dropped criminal charges against two people when they learned of their intention – to draw attention to climate change.
Climate Central reports:
Ken Ward and Jay O'Hara were facing the threat of jail time after they anchored a lobster boat in the path of a coal-hauling ship last year, preventing it from unloading at a power plant. The protest was designed to draw attention to coal and other fossil fuels, the primary cause of global warming. Their attorneys planned to use the "necessity defense" – an extraordinary strategy that would have pointed to the urgency of climate change in justifying their clients' actions. But, in the end, such a defense wasn't needed.
Bristol County District Attorney Sam Sutter said the decision to drop criminal charges was made with concerns for "the children of Bristol County and beyond" in his mind. He also announced that he planned to join the People's Climate March in New York later this month.
"Climate change is one of the gravest crisis our planet has ever faced," Sutter told reporters. "In my humble opinion, the political leadership on this issue has been sorely lacking."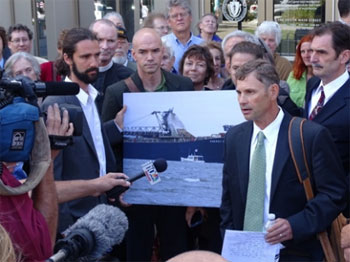 Credit: Peter Bowden
—
Bill McKibben, who would have testified during a trial, said instead: "Too often we're forced to think cynically about public officials, but here's a guy who did his homework and found his heart had turned. Courts are often loath to look at the bigger picture, but this is an example of an official exercising his discretion with intelligence and common sense, and I hope we'll see more of that."
Read our article, Big Carbon & Big Tobacco, Same Path to Court
(Visited 3,251 times, 4 visits today)