NY Governor Cuomo announced the rollout of K-Solar, which is bringing solar to K-12 school districts across the state.
40 school districts have signed on so far, representing nearly 200 schools.
Part of the $1 billion NY-Sun Initiative, K-Solar streamlines the process of adding solar through technical assistance and access to financing.
A partnership between the NY Power Authority (NYPA), NY State Energy Research and Development Authority (NYSERDA) and NY State Education Department, every school district can participate.
The idea is to guide schools through the entire process – from awareness to installation – in as little as six months.
Services provided free of charge:
a site report that shows which buildings are suitable for solar and how much energy costs can be saved
how to access state and federal incentives
guidance on whether to lease or buy solar systems
streamlined permitting process for solar installations
help on creating a purchasing coalition among school districts to qualify for high volume prices
NYPA is screening solar installers to streamline the process further.
Net-zero energy school in NYC: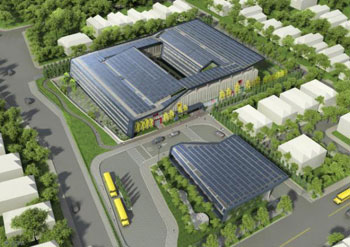 "Solar power can help New York schools save big on their energy bills – freeing up more money to be invested in education, instead of energy – while helping to reduce demand for dirty energy sources that pollute the air our children breathe. On top of the financial benefits, going solar provides an incredible resource to teach kids hands-on lessons about climate science, technology, engineering, math, and what exactly happens when you flip on that light switch," says Jackson Morris, director of Eastern Energy at Natural Resources Defense Council.
Besides the direct benefits schools get from adding solar, the hope is these visible, important hubs will encourage entire communities to adopt solar energy. There are 5000 schools in the state.
Read our article, New York Sets California-Like Path for Solar Energy.
Schools can register here:
Website:
[sorry this link is no longer available]
(Visited 4,113 times, 1 visits today)