For the eighth year, the Sierra Club released its "Cool Schools" ranking to point students to America's greenest universities.
The non-profit analyzed 173 schools in conjunction with the Association for Advancement of Sustainability in Higher Education. Schools are ranked on all the factors you'd expect – from the food they serve in dining halls, to the energy powering the campus, from how they handle waste to their purchasing policies and financial investments.
We are "encouraging America's colleges and universities to fully embrace their unique and multifaceted role in tackling the climate crisis and protecting America's air, water, public health, and beautiful places," says Bob Sipchen, Editor in Chief for Sierra Magazine. "From innovative research and development to powering campuses with wind and solar, to educating students in the most advanced thinking on sustainability, colleges and universities are leaders and models for the rest of society."
The top 10 for 2014 are an interesting mix of schools across the country:
1. University of California, Irvine (CA)
2. American University, Washington, DC
3. Dickinson College, Carlisle, PA
4. Loyola University, Chicago, IL
5. Lewis and Clark College, Portland, OR
6. Stanford University (CA)

7. University of South Florida, Tampa
8. Green Mountain College, Poultney, VT (#1 in 2010)
9. University of Connecticut, Storrs (#1 in 2013)
10. Georgia Institute of Technology, Atlanta
UC Irvine made it to the top this year partially because of its move to renewable energy with three solar projects on campus, a 19-megawatt cogeneration plant, and by exceeding energy efficiency targets.
American University has D.C.'s largest solar array and recently purchased solar for fully half its power; Dickinson runs an organic farm, and Stanford is divesting from coal.
The top 10 schools "are so dedicated to greening every level of their operations – from energy use to recycling to food sourcing to curriculum – that sustainability is woven into their very culture," says Sierra Magazine.
Here's the ranking of all 173 schools and how they score for each category.
The Sierra Student Coalition is launching "Campuses for Clean Energy" this fall to push universities to 100% clean energy.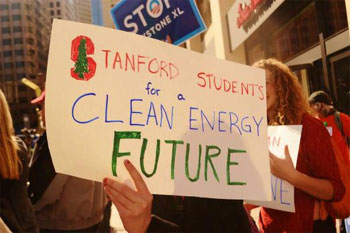 Princeton Review
Each year, the Princeton Review publishes a guide to the greenest US universities. This year it profiles 332 schools (out of over 800 surveyed) that "demonstrate exemplary commitments to sustainability in their academics, campus infrastructure, activities, and career preparation."
Compiled in collaboration with the US Green Building Council's Center for Green Schools, it includes:
Schools that have LEED-certified buildings and are signatories of the American College & University Presidents' Climate Commitment
Profiles with information on financial aid, and sustainability initiatives; "Green Facts" on its use of renewable energy, recycling and conservation programs; sustainability curriculum and career guidance for green jobs.
Schools spend 30% of their food budget on local/organic food; purchases; 63% offer a sustainability-focused major and 73% of new construction is LEED-certified.
"Among 10,116 college applicants who participated in our 2014 'College Hopes & Worries Survey,' 61% say having information about a school's commitment to the environment would influence their decision to apply to or attend the school," says Rob Franek, Publisher of Princeton Review.
Unfortunately, the guide leaves out "historically black colleges and universities," (HBCU), according to the 2014 HBCU Green Report, which are "hothouses of sustainable innovation across the country." As examples, they point to Florida A&M's new Sustainability Institute and Howard University's "Green Team," which won the D.C. Power Down energy efficiency competition by cutting consumption 14%.
A collaborative project of the Building Green Initiative at Clark Atlanta University and the North Carolina Institute of Minority Economic Development, they produced the report to "dispel the myth that black colleges are not going green."
Here are profiles of top schools and Princeton's guide:
Website:
[sorry this link is no longer available]
(Visited 5,035 times, 12 visits today)