We were surprised to learn that 110 nations have written into their constitution the right to live in a healthy environment.
That doesn't include Canada, and the wonderful Dr. David Suzuki is bent on changing that (we could use his help in the US). "What's more important than the right to breathe fresh air, drink clean water and eat healthy food?" he asks.
From September 24 to November 9, he will cross Canada, making 20 stops with celebrities like Neil Young. The plan is to start a multi-year campaign to support the groundswell of Canadians who want meaningful action to protect the people and places they love. "It's the most important thing I've ever done," he says.
The Blue Dot tour gets its name from the iconic photo of Apollo astronauts took of Earth in 1968, known as the Blue Marble – the first time humanity saw what Earth looks like from space. In 1990, astronomer Carl Sagan described a photo of Earth taken much farter away by the unmanned Voyager 1 as a "pale blue dot."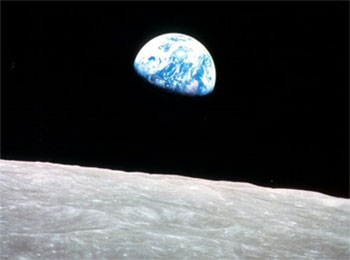 "How can anyone who has seen these photos treat our small blue home with disdain and carelessness? How can anyone fail to recognize how precious and finite the resources, especially water, are – and that we must share and care for what we have?," asks Suzuki.
The "blue marble" photo catalyzed the global environmental movement, and now we need a resurgence as we face ever-greater competition over precious resources and corporations bent on profit at any cost.
His ultimate goal is to see the right to a healthy environment enshrined in the Canadian Constitution.
This has become so necessary because under the "leadership" of Prime Minister Harper, Canada has completely forfeited its long-held reputation about caring for the environment. This voracious right-winger has demolished its environmental laws, muzzled and fired top scientists, and threatens environmental nonprofits, including the David Suzuki Foundation … all in the name of mineral and tar sands profits.
According to the Conference Board of Canada, the country now ranks 15 out of 17 wealthy industrialized countries on a suite of environmental indicators, Suzuki says. "Our dismal record contradicts our core values, jeopardizing the health of Canadians and our magnificent natural heritage.
Read our article, Harper Budget Overturns Canada's Environmental Laws for Oil Industry.
Here's the Blue Dot website where you can find more information and tour dates:
(Visited 5,753 times, 10 visits today)