by Rona Fried
Two trends are making the solar industry smile:
For the first time since 2006, solar panels could be in short supply as the market finally turns to feast from famine for manufacturers.
And by 2017, 26 US states could have rooftop solar that's as cheap as local electricity rates – without counting state incentives, says Union of Concerned Scientists.
Think about it: in 2006, 30,000 US homes had rooftop solar and that's grown to 400,000 in 2013.


And in 2006, manufacturers couldn't meet demand for only 1.5 gigawatts (GW) of solar panels. Now there's about 59 GW of world solar production capacity that can just about supply 52 GW of demand this year and 61 GW expected in 2015, according to Bloomberg New Energy Finance.
It's the boon solar equipment manufacturers have been waiting for – manufacturers could spend $10 billion in 2017, says Solarbuzz.
And this is the tip of the iceberg – by 2018, Solarbuzz projects world demand could reach 100 GW a year!
Costs for typical rooftop solar systems are down by half since 2007. If the trend continues, as expected, close to 4 million homes could run on solar by 2020, according to the US Department of Energy.
States Driving Solar Boom
10 states drove the US solar boom in 2013 with 87% of installations, according to Environment America's report, "Lighting the Way."
This includes utility-scale and rooftop solar: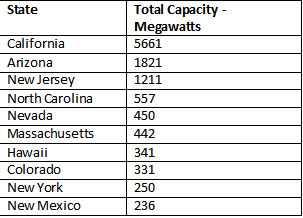 See last year's list of leading states.
Other rising stars include Vermont and Georgia, which have large or fast-growing solar markets and strong new solar policies or programs implemented since mid-2013.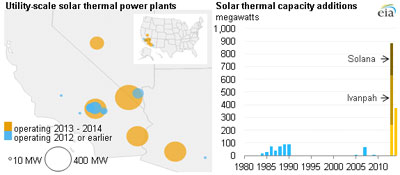 Take a look at the states and you'll notice some aren't the sunniest, but they have the most installed solar because of supportive government policies. Unfortunately, that's changed this year in Arizona.
All have Renewable Portfolio Standards (8 with specific solar targets) and 9 have strong net metering policies, where people get paid at full retail rates for selling excess solar back to the grid. 9 make it easy to connect solar systems to the grid and 9 foster creative financing options, such as solar leasing.
Sunny southeastern states are almost absent from the list because their policies are designed to make it very hard to install solar, because utilities perceive it as a threat. They ban or severely restrict solar leasing arrangements, for example.
There's a hint of progress in some states, including Florida, but utility FPL recently got approval to charge customers $9 per month to fund construction of its solar projects. Pretty amazing, because FPL has long been one of the top wind developers in the US – from its own coffers. And its joined with other state utilities to ask regulators to slash energy efficiency incentives.
Read our article, 10 Significant State Policies for Distributed Solar Energy.
Leading Cities
Five of the top 20 US cities for solar are, not surprisingly, in California (in this order): Los Angeles, San Diego, San Jose, San Francisco and Sacramento, according to Environment America's report, "Shining Cities: At the Forefront of America's Solar Energy Revolution."
The top 20 cities contain 7% of US solar, the amount the entire country had just six years ago, says Environment America. As of 2013, the top 10 have:
Los Angeles – 132 MW
San Diego – 107
Phoenix – 96
San Jose – 94
Honolulu – 91
San Antonio – 84
Indianapolis – 56
New York – 33
San Francisco – 26
Denver – 25
It's a shame the solar industry now has to fight for its growth against a threatened utility industry and fossil fuel industry.
Read our article, Eye-Opening Map of Front Groups Attacking Renewable Energy.
Read the report:
(Visited 5,738 times, 7 visits today)