Last year was a tough one for the wind industry because of headwinds in the US and other key markets, but now it's growing rapidly again.
Wind capacity is expected to grow from providing 3% of the world's electricity today to 7.3% by 2018, estimates Navigant Research.
"Last year was the first in which the wind industry experienced negative growth since 2004, but there are signs that the 2013 slowdown will turn out to be an anomaly," says Feng Zhao, research director with Navigant. "As wind turbine vendors search for new opportunities in emerging markets, primarily in Latin America and Africa, and develop machines for maximum energy production in low wind speed areas, the industry is expected to add another 250 gigawatts (GW) of capacity through 2018."
Currently, 98% of the world's 318 GW of wind are onshore, but the offshore market will drive much of the growth going forward. Last year, 1.7 GW of offshore wind were added in 13 projects – a 50% increase from 2012. Almost half of that is in the UK, where Siemens supplied all the turbines.
London Array offshore wind farm: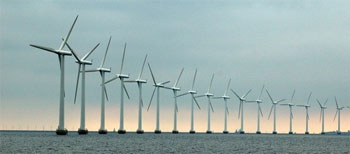 Servicing wind farms is becoming big business. At least 100 GW of operations are no longer covered by warranties, says Navigant, and they expect that to grow by 40 GW a year.
Annual revenues – which stood at $7.1 billion last year, will almost double by 2020 to $13 billion, according to Make Consulting.
Servicing already comprises about 16% of Vestas's revenue. Profit margins are some five times higher than manufacturing (15% compared to 3.5%) and sales are reliable and long-term, says Make.
Highlights of Navigant's BTM Wind Report, the 19th annual update on the industry. For 2013:
After big layoffs ahead of the expiration of the production tax credit, Vestas is hiring in the US again – it plans to bring back 1500 employees at its Colorado factory.
China regained its title from the US as the world's largest annual market with 16 GW installed in 2013
Offshore wind grew by 50% in Europe where it should see steady growth
Wind power installations are expected to rebound this year with 30% growth, after growing just 12.4% in 2013.
For the first time in history, wind is the leading source of a country's electricity – and that's in Spain, supplying 20.9% in 2013. And that's with all the uncertainty and ratcheting down of its feed-in laws. It supplies almost 15% of the UK's electricity, and 23% of Ireland's from December through May, peaking at 50%, according to the Irish Wind Energy Association. For the month of December, wind supplied 54.8% of Denmark's electricity.
800,000 people are employed worldwide in the wind industry.
In the US, wind now supplies 5% of our electricity with 61 GW installed, growing to 8% next year and 9% by 2020, according to SNL. In Iowa, wind is nearing 30% and South Dakota is close behind. But with continuing uncertainty – the production tax credit is still up in the air – many developers are looking to other countries.
Use This Map to Find All 47,000 Wind Turbines in the US:
(Visited 5,193 times, 9 visits today)