As utilities continue to battle renewable energy across the country, Consumers Energy in Michigan is taking some positive steps forward.
Because the price of renewable energy in Michigan has dropped so much, the utility recently erased all customer charges that pay for the state's Renewable Portfolio Standard (RPS).


Now, Consumers is taking the lead on biogas – one of our favorite forms of renewable energy. Rather than letting farmers figure it on their own, they selected four farms to supply biogas energy to the grid.
The farms will be offered the opportunity to generate electricity under long-term contracts that collectively provide 2.6 megawatts of electricity, enough to power about 2,800 homes.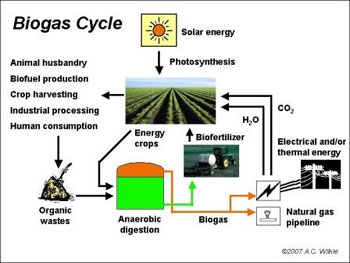 "We are excited to move forward with this new program to develop dependable, renewable energy produced here in our state," says Timothy Sparks, Vice President of Energy Supply Operations for Consumers. "The addition of anaerobic digestion brings more diversity to our existing renewable energy supply from wind, solar, biomass and hydroelectric dams."
Consumers developed the program with Michigan State University and the state's agricultural community.
The utility, however, fought a referendum (and won) that would have raised Michigan's RPS from 10% by 2015 (easily achievable) to 25% by 2025.
Utilities Like EV Tariffs
Consumers Energy is among 25 utilities in 14 states that are embracing "EV Tariffs," offering electric vehicle owners the option of lower electric rates when they charge during off-peak hours, according to a study by Northeast Group.
Pricing equates to about $0.75 a gallon when off-peak charging is used, compared to $1.42 during peak hours. Over 21 million customers have access to these low rates, says the report.
Minnesota passed a law mandating such tariffs to make sure the growth of EV's doesn't strain the grid.
Solar Manufacturing Returns to Michigan
Suniva, which makes crystalline silicon solar cells and modules, is opening a manufacturing plant in Michigan this year with 200 megawatts of capacity.
It will create 350 jobs and the state was chosen for its highly skilled manufacturing workforce and central location, says Suniva. Based in Atlanta, it expanded its Georgia factory last year.
The company, which counts SolarCity as a customer, is responding to rising demand for US-made solar systems, they say. Until fairly recently, Suniva exported most of its products.
Solar pioneer Energy Conversion Devices had big manufacturing plans for Michigan until it became a casualty of ultra-low-priced Chinese solar panels.
Here is Northeast Group's executive summary:
(Visited 3,832 times, 6 visits today)