In response to recommendations from the Task Force on Climate Preparedness and Resilience, President Obama announced initiatives that will protect rural power supplies, build resilient infrastructure and help communities respond better to extreme weather events.
"Today I'm announcing a series of new steps," says Obama. "We're going to do more, including new data and 3D maps to help state, local officials in communities understand which areas and which infrastructure are at risk as a consequence of climate
change. We're going to help communities improve their electric grids, build stronger seawalls and natural barriers, and protect their water supplies. We're also going to invest in stronger and more resilient infrastructure."
$263 Million From USDA:
The Department of Agriculture is loaning eight states a combined $263.3 million to modernize and improve the reliability of the grid in rural areas. It will fund smart grid improvements and renovate or build over 3,700 miles of transmission lines in California, Florida, Georgia, Kansas, Kentucky, Indiana, North Carolina and Virginia.
$10 Million for Interior's Bureau of Indian Affairs to help tribes prepare for climate change impacts. An interagency effort between Department of Interior and the EPA will provide tribes with data and assist with climate change adaptation and mitigation efforts.
$13 million for Interior's US Geological Survey's 3-D Elevation Program: advanced mapping that make it easier for cities and states to update flood maps and pinpoint vulnerable areas during extreme weather events. Employing LIDAR (light detection and ranging) – which uses light from lasers to measure a site's elevation – it will also facilitate targeting the best sites for solar and wind. The partnership brings federal and state agencies, academia, corporations, tribes, and communities together on flood risk, water resource planning, mitigating coastal erosion and storm surge impacts, and potential landslides.
LIDAR image of Mount St. Helens in Washington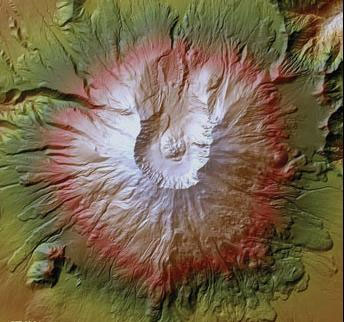 EPA Launches Green Infrastructure Collaborative – 25 communities will get funding and technical assistance for green stormwater management such urban forests and green roofs.
USDA will announce more funding this week to help with California's drought.
President Obama formed the task force last November. 26 governors, mayors, and county and tribal officials are charged with developing recommendations for how the federal government can assist communities already coping with climate change.
"Climate change poses a direct threat to the infrastructure of America that we need to stay competitive in this 21st-century economy. That means that we should see this as an opportunity to do what we should be doing anyway, and that's modernizing our infrastructure, modernizing our roads, modernizing our
bridges, power grids, our transit systems, and making sure that they're more resilient. That's going to be good for commerce and it's obviously going to be good for communities," says Obama.
Read the other initiatives here:
Website:
[sorry this link is no longer available]
(Visited 5,329 times, 1 visits today)