Microsoft took another step toward its goal of becoming carbon neutral, announcing its second enormous purchase of wind energy.
The company signed a 20-year power purchase agreement to buy 175 megawatts (MW) of wind energy – the entire output – of Pilot Hill Wind Project in Illinois. The wind farm is 60 miles from Chicago and will supply Microsoft's data center there through the grid.
To give you an idea of how big the purchase is – and how much energy data centers consume – that's enough power for the needs of 70,000 families a year.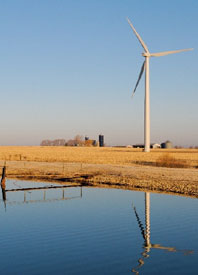 In November, Microsoft made its first wind commitment, buying the entire 110 MW output from Keechi Wind Project in Texas, to supply a data center there. Both purchases are partially funded by Microsoft's internal carbon fee.
Pretty amazing that private companies (Google, Facebook too) are now sponsoring the construction of entire wind farms! Construction of Pilot Hill is underway and will be finished next year.
"The project builds on our commitment to renewable energy and our strategic objective to transform the energy supply chain toward radically greater efficiency and reduced environmental impact," says Microsoft.
Microsoft is putting its creativity to work on powering datacenters. The first zero carbon data center is in Cheyenne, Wyoming, where biogas generated from the wastewater plant next door powers fuel cells. And they have demonstrated a proof-of-concept data center that runs on fuel cells mounted on server racks.

(Visited 5,484 times, 11 visits today)