After approving new, higher targets for 2030 for greenhouse gas (GHG) cuts and renewable energy early this year, the European Union voted on an energy efficiency target last week.
reduce GHG emissions 40% (below 1990 levels)
get 27% of energy from renewable energy (nuclear included)
increase energy efficiency by 30%
The plan costs an estimated $52 billion a year and updates the EU's 20-20-20 plan, which it is on track to meeting, except for efficiency, which has been the surprising laggard.
Across the 28 countries that comprise the EU, emissions are down 18% from 1990 levels (including outliers like Poland, which use mostly coal) and renewable energy supplies 12.7% of electricity, heat and transportation. In contrast, the figure for the US is about 9.5%.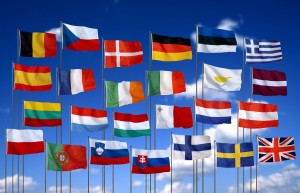 Still, many are disappointed with the new targets. While they easily exceed other major economies, they don't meet the climate challenge.
The European Environmental Bureau – the region's largest federation of environmental organizations – calls for a minimum 60% target for cutting emissions, 45% for renewable energy and 40% for efficiency.
Greenpeace calls the plan "gutless" that's a "gift to the oligarchs", reminding them that they could drastically reduce reliance on Russian fossil fuels with an ambitious efficiency target. It would also create 3.5 million jobs according to the Commission's research.
It is ambitious, while being affordable and realistic, says EU Energy Commissioner Günther Oettinger. "Our aim is to give the right signal to the market and encourage further investments in energy-saving technologies," he told The Guardian. Business interests don't want an efficiency target, but instead rely on the market and cap-and-trade program.
Read our article, European Union Sets New Targets For Renewable Energy, GHG Emissions.
UK Announces Auctions
The UK government announced it will conduct auctions for guaranteed renewable energy payments worth over $340 million a year, with a third for solar and onshore wind, and two-thirds for emerging technologies such as offshore wind and marine energy.
The "contracts for difference" auctions subsidize renewable energy companies that offer bids that would provide energy at lower rates than fossil fuel.
Compare the $340 million cap with that for nuclear energy – $136 billion – and it's not hard to understand the disappoint expressed by renewable energy industries.
In related news, the UK government may have to compensate solar companies with $224 million for cutting feed-in tariffs without warning in 2011. A judge recently ruled they were illegal and the government is appealing the decision. Solar companies claim the unanticipated change led to huge losses and cancelled contracts.
EU Leads World on Efficiency
Although there's lots of room for improvement, Germany is the world's most efficient major economy, followed by Italy and the European Union as a whole. The US ranks #13 out of 16 nations measured – where newly proposed power plant regulations would help move it up.
2014 International Energy Efficiency Scorecard, by American Council for an Energy-Efficient Economy (ACEEE) ranking:
1. Germany
2. Italy
3. European Union
4. China and France tied
5. Japan and United Kingdom tied
6. Spain
7. Canada
8. Australia
9. India
10. South Korea
11. United States
12. Russia
13. Brazil
14. Mexico
These 16 economies represent over 81% of global gross domestic product and 71% of global energy consumption, says ACEEE.
"Germany is a prime example of a nation that has made energy efficiency a top priority. The US, long considered an innovative and competitive world leader, has progressed slowly and has made limited progress, even as Germany, Italy, China, and other nations surge ahead," notes Steve Nadel, ACEEE Executive Director.
The ACEEE report asks, "how can the US compete in a global economy if it continues to waste money and energy that other industrialized nations save and can reinvest?" The authors recommend:
set a national energy savings target
strengthen national model building energy codes
support education and training in industrial sectors
prioritize efficiency in transportation spending.
Here is ACEEE's report:
(Visited 5,510 times, 16 visits today)