People that want to share in the benefits of renewable energy projects will soon earn dividends from the largest wind farm in the US, as well as have access to another "yieldco" option.
NRG Yield Buys Alta Wind
Alta Wind, the largest US wind farm, will soon be part of NRG Yield's (NYSE:NYLD) portfolio, spinning off dividends to people who hold shares of NYLD.
NRG Yield is buying Alta Wind Energy Center (also known as Mojave Wind Farm), part of the massive wind corridor in Tehachapi, California. At 947 megawatts, it brings NRG's wind portfolio to 2.84 GW the fifth-largest in North America. 386 GE and Vestas turbines make up the wind farm, installed four years ago.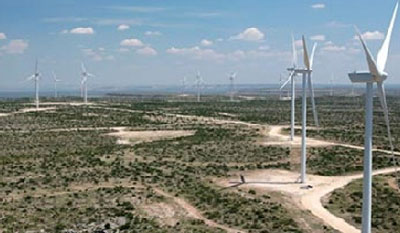 All the electricity from Alta Wind is under contract for 21 years to Southern California Edison.
NRG is buying Alta Wind from Terra-Gen Power for $870 million, in addition to taking on its project debt of $1.6 billion.
Unlike the surge among utilities to fight the growth of renewable energy, NRG is embracing it.
"Alta Wind is a landmark investment for NRG Yield," says David Crane, CEO of NRG Yield. "The acquisition of the largest wind facility on the North American continent highlights not only our commitment to carbon-free generation, but also the strength of our acquisition capabilities to compete for contracted assets of world-class quality in the competitive marketplace."
NRG Yield is also a major investor in the world's largest solar PV project, Agua Caliente Solar Photovoltaic Facility, near Phoenix, Arizona, and Ivanpah, the world's largest concentrating solar plant. In addition to NRG Yield's portfolio of solar and wind plants, it also unfortunately includes 3 natural gas plants.
NextEra Spins Off Another YieldCo
NextEra Energy Resources, Florida Power & Light's (FPL) renewable energy arm, is forming a yieldco. It has filed with the SEC for an IPO for an unspecified date – we'll let you know when it's about to go public.
FPL has long held the largest wind project portfolio in the US – building projects for 20 years – and it also builds solar plants.
Its yieldco will initially hold a portfolio of 1.5-2 GW of operating projects, with another 1.2 GW once more projects are finished. It will trade under the ticker NEP on the NY Stock Exchange.
NextEra owns some of the largest US solar plants such as the 250 MW McCoy Solar Energy Project in Riverside County, California. It's a major investor in the 550 MW Desert Sunlight Solar Farm and owns Blythe Solar which if approved, will be a 1 GW solar plant.
In an interesting twist to financing solar projects, FPL wants customer donations! The state's largest utility has proposed this as a pilot program, currently under consideration by regulators.
If approved, customers could chip in $9 a month to support construction of up to 25 commercial-scale, distributed solar systems over the next three years – about 2.4 megawatts total. How much gets built depends on customer participation, they say.
The program would start next year. FPL would provide the upfront capital to install the first 2-5 systems early in 2015. FPL will contract out to local installers through a competitive bidding process.
What Are Yieldcos?
In case, you haven't been following our articles on Yieldco's, they are an exciting, popular new option on the stock market.
They provide liquid, easily accessible capital to build new renewable energy projects, while giving investors dividends.
They draw a line between the side of a company that develops projects and the Yield Co, which owns and operates them long-term. Investors benefit from long-term, stable dividends that come from selling electricity to utilities under 20-25-year power purchase agreements. For income investors, they offer one of the few ways to make reliable dividends from high quality, very low risk projects. Any cash that's not paid out in dividends is reinvested in new projects.
These are the other YieldCos:
Soon to go public:
Read our article, Clean Energy IPO Boom As Investors Seek Predictable Dividends.
(Visited 8,238 times, 27 visits today)