We've been writing a lot about yieldcos – the most exciting way to for renewable energy advocates to participate in dividends from operating solar and wind projects, for the most part.
They remove the risk of investing in a project because the side of a company that develops projects is separated in a yieldco, from the side that owns and operates them long-term. Investors get dividends from selling clean electricity to utilities under 20-25-year power purchase agreements, and any cash that's not paid out in dividends is reinvested in new projects.
Here's the view from someone who covers energy stocks.
by Jeff Siegel
I'm bullish on renewable energy yieldcos and have covered Pattern Energy Group (NASDAQ:PEGI) and NRG Yield (NYSE:NYLD)
at length.
Investors who hold shares of NRG Yield profit from the largest wind farm in the US, Alta Wind Energy Center in Tehachapi, California: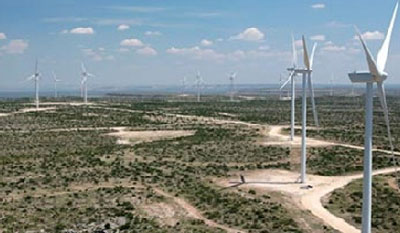 The way I see it, yieldcos are the next big renewable energy investments for retail investors. They enable regular investors to buy into multiple renewable energy assets that produce steady cash flow. For those not particularly keen on risk, but still want exposure to the burgeoning alternative energy space, this is a great way to do it.
The bottom line is that the renewable energy market continues to grow rapidly. Even those who are loyal oil & gas investors must admit that the growth potential in the renewable energy space – particularly solar and wind – is absolutely astounding. And this is not a trend that will peter out any time soon.
In fact, according to Bloomberg's New Energy Finance, 70% of new power generation capacity added between 2012-2030 will be from renewable energy technologies. This is huge.
Point is, there is no reason for you to not have at least a small portion of your portfolio dedicated to this space. So you might want to take a look at the latest yieldco to go public.
Strong Debut for Abengoa Yield
The company is Abengoa Yield (NASDAQ:ABY). This is a unit that was formed to serve as the primary vehicle through which
Abengoa, the Spanish energy behemoth, will own, manage and acquire renewable energy assets. Conventional power and transmission assets are also included in the yieldco.
The IPO surged nearly 30% on its debut. Initially priced at $29 a share, it's now trading around $39. Of course, it's only been a week, and certainly the initial enthusiasm of the offering likely pushed the price up. But overall, I actually like ABY.
Abengoa is actually one of the strongest alternative energy players in the world. It has first-mover advantage in certain areas, and has well-diversified coverage across the globe with revenue-generating assets in North America,South America and Europe.
Currently, ABY owns 11 total assets which include 710 megawatts of renewables, 300 megawatts of conventional generation and 1,018 miles of transmission.
I didn't jump in early on the IPO, but will be looking to pick some up on a shake-out. The lockup doesn't end until December 10, too. So that should allow for some wiggle room throughout the summer and fall.
Of all the alternative energy yieldcos trading publicly right now, I foresee the most safety with ABY.
++++
Jeff Siegel is Editor of Energy and Capital, where this article
was first published.
To learn about all the yieldcos, read YieldCo Makes Largest Wind Farm in US Available to Investors.
(Visited 6,431 times, 9 visits today)