Avoiding genetically modified organisms (GMOs) is becoming a major reason people are buying organic food, according to the Organic Trade Association (OTA).
Almost 25% of parents say staying clear of GMOs is one of their top reasons for selecting organic, up from 16% last year. Of the 15 reasons parents buy organic, avoiding GMOs is growing the fastest, according to OTA's annual U.S. Families' Organic Attitudes and Beliefs 2014 Tracking Study.
The survey shows that more people are becoming aware of the dangers of GMOs and the benefits of organic food. The only way to be sure you're buying food that doesn't contain GMOs is to buy certified organic.
70% of parents say they feel "extremely well informed" or "know quite a bit" about organic and 73% know what GMO stands for. Almost 70% say they look for "non-GMO" or "Produced without GMOs" on the label when they purchase food. Products that say "non-GMO" without the organic seal aren't necessarily organic, however.
Almost 75% of parents say they actively seek out the organic seal.
Sales of organic food in the US – the world's biggest market – jumped 12% in 2013 to $35.1 billion, setting a new record. 80% of American families now buy some organic products.
Indeed, food companies that want to use GMO-free ingredients, but aren't organic, are finding it hard to find suppliers. And many are trying – since Whole Foods pledged to sell only labeled foods that contain GMOs last year, hundreds of suppliers have been looking at getting GMO-free certified.
It's tough because about 90% of corn, soybeans, canola and sugar beets are GMO in the US. Suppliers are feeling the pressure to set aside more non-GMO crops including food for livestock and egg-laying chickens.
What About Restaurants?
Organic food at restaurants is still an outlier, another reason we like Chipotle Mexican Grill so much. This incredible leading "fast casual" restaurant chain shows rare integrity and commitment to organic and local agriculture.
Since 2008, it's been steadily increasing the organic food it serves including "humanely-raised" animals that provide chicken, pork and beef. It's committed to buying only GMO-free food and indicates which products still have GMOs on its website. With 1400 restaurants in 43 states, the company is giving lots of farmers the incentive to transition to organic.
The company prefers farms that run on renewable energy, and is putting rooftop solar on its restaurants – the first restaurant to receive LEED Platinum certification, they also use wind energy and recycle rainwater, and lead on composting.
This year, Chipotle plans to buy over 20 million pounds of locally grown vegetables, double from just two years ago. up from 15 million pounds last year and 10 million the year before. They are working with more than 45 farms around the country that grow bell peppers, cilantro, red onions, jalapeno peppers, oregano, romaine lettuce and tomatoes, as well as avocados and lemons in certain cities. All locally grown produce is sourced within 350 miles of the restaurants where it will be served and it is all served fresh – there aren't any freezers.
Chipotle also creates short animated films on Hulu and YouTube that educate people about industrial agriculture: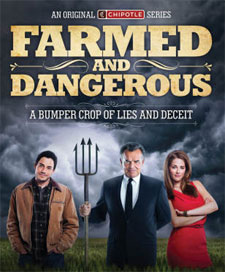 "Farmed and Dangerous" is four, 1/2 hour episodes that satirize the lengths corporate agribusiness and its image-makers go to create a positive image of industrial agriculture;
"Scarecrow," which depicts a scarecrow's effort to bring wholesome food to people when all that's available is factory-farmed food;
"Back to the Start," which features Willie Nelson singing about how farming is increasingly a far cry from its roots.
Scarecrow, for example, has been viewed 12 million times on YouTube! and has a companion game on iPhone, iPad and iPod.
Chipotle also supports sustainable agriculture through its Chipotle Cultivate Foundation.
"Much of our marketing is aimed at making people more curious about where their food comes from and how it is prepared," says Mark Crumpacker , Chief Marketing and Development Officer. "By making complex issues about food production more understandable – even entertaining – we are reaching people who have not typically been tuned into these types of issues."
The annual trends study by the National Restaurant Association shows that Chipotle is on the right track. 87% of this year's survey respondents say that eating locally grown produce and even packaged food is somewhat or very important, up from 76% in 2009.
It would sure be great if more food companies and restaurants jumped on this bandwagon.
Learn more about "Farmed and Dangerous":
(Visited 7,337 times, 8 visits today)