Last month, Pakistan began construction on its first major solar park, starting out with one of the largest solar PV projects in the world.
Until now, this land of sun hasn't produced even a kilowatt of solar energy.
Being built in phases, the first 100 megawatts starts generating this year and by 2016, the 400,000-panel project will produce 1 gigawatt (GW) of electricity. Then it will become even larger, eventually covering 15,000 acres and pumping out 1.5 GW.
Smaller solar projects are also being built around Quaid-e-Azam Solar Park, with a road and transmission structure that make it convenient.
Islamabad-based Safe Solar Power, for example, is building a 10 MW project, and about 20 companies are planning projects from 10-50 MW, reports The Express Tribune.
To support solar development, Pakistan is also inaugurating a feed-in tariff for solar PV. Rates vary based on geography, but they are around $0.20 per kilowatt hour, reduced to $0.083 after 10 years. It is limited to PV plants between 1-100 MW.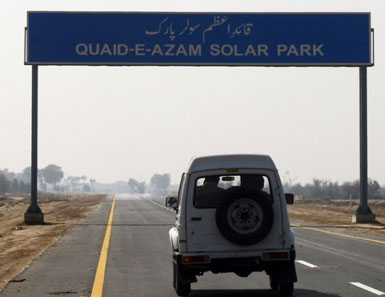 What is now a barren, parched desert will gleam with solar panels, spurring the economy with it. "You will see a river of panels, residential buildings and offices – it will be a new world," site engineer Muhammad Sajid told The Express Tribune.
No longer will people have to "sweat and curse" their way through the summer, says The Express Tribune, beleaguered by chronic energy shortages (half the people don't have electricity) and regular outages. Says Prime Minister Sharif, scarcity of reliable electric power "has pushed the country backwards and its entire industry and agriculture sector have suffered immensely."
People are already migrating away, finds a study in Nature Climate Change. Pakistan's climate is increasingly inhospitable between heat stress and atypical torrential floods – and is considered one of the most vulnerable to climate change impacts because its environment has been so degraded.
Just 2-5% of forest cover remains and with 166 square miles cleared each year, it has the highest deforestation rate in Asia, according to the UN Food and Agriculture Organization. Incredibly, the country has only a one month supply of water in reserve, which makes growing food increasingly challenging.
Then there's the other side of the equation. In another part of the desert, a $1.6 billion coal plant is being built and two others have been approved, 660 MW and 600 MW.
(Visited 3,529 times, 1 visits today)