President Obama's Power Africa initiative is taking off with $1 billion from investors to seed off-grid renewable energy.
27 investors have made pledges to meet the goal of bringing off-grid electricity to 20 million rural homes over the next five years – doubling the number that can access it now.
The money will be used for small solar and small hydro, including training local people on the technologies. Dubbed "Beyond the Grid," the initiative is part of the larger Power Africa program, which will use the gamut of renewable energy sources, and build out the transmission infrastructure in urban areas.
"These private sector commitments will help Power Africa meet and exceed its commitment," says Ernest Moniz, Secretary of Energy.
Launched a year ago, the focus is on six countries where over 240 million people can't access electricity: Ethiopia, Ghana, Kenya, Liberia, Nigeria, and Tanzania. In Ethiopia, construction of a 1 gigawatt geothermal plant begins this year. The country has the biggest wind farm on the continent.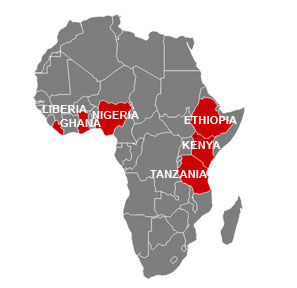 "Bolstered by the falling cost of renewable energy generation; rapid advances in energy storage, smart meter, and mobile payment technologies; and innovative business models, new distributed energy companies are now delivering clean, reliable energy in Africa at a competitive price point. While the market is still young, it holds great promise to follow the mobile phone in leapfrogging centralized infrastructure across Africa, says Obama's advisor, John Podesta in a White House blog. He points to the much lower cost of solar and the advance of energy storage technology.
More than 25 projects are in the pipeline to seed and scale distributed energy solutions for African homes, businesses, schools, and other public facilities, he says.
Beyond the Grid "will also create an effective enabling environment with increasing access to financial and technical assistance historically not available to small energy businesses. It will incorporate new financial tools such as investment structures that blend donor and private capital, aggregating and de-risking small energy projects in Africa and making them available as a new asset class for investment at scale," says Moniz.
Founding partners include impact investors, venture philanthropists, clean energy enterprises, and practitioners:
Acumen Fund
Bamboo Finance
BBOXX
Capricorn Investment Group
CrossBoundary
d.light
Embark Energy
Energiya Global
Fenix International
Global Off-Grid Lighting Association
Gray Ghost Ventures
Invested Development
Khosla Impact
LGT Venture Philanthropy
Liberia Energy Network
Low Carbon Enterprise Fund
Mosaic
Off Grid Electric
Persistent Energy Partners
Powerhive
Schneider Electric
Shell Foundation
Solar Sister
SunFunder
Tony Elumelu Foundation
United Nations Foundation
Virunga Power
Read our article, 19 Countries Form Africa Clean Energy Corridor.
Read about what each investor will contribute:
Website:
[sorry this link is no longer available]
(Visited 3,835 times, 1 visits today)