A to Z Wineworks, the largest winery in Oregon, is now a certified B Corporation.
Of the more than 1000 B Corporations across 60 industries and 35 countries, this is the first winery to get certified.
To become a B Corp, companies have to meet rigorous standards of social and environmental performance, legal accountability, and public transparency, demonstrating that "creating a public benefit" is an integral part of their business strategy.
The assessment process, carried out by B Lab, measures a company's impact on employees, suppliers, community, and the environment. B Lab examines company operations, hiring and promotion procedures, environmental management practices, and governance.
The idea is to signal to the consumer that they're a different type of company, Erik Trojian, the director of policy for B Lab, told NPR – that they aren't greenwashing, as so many companies do. Many of the best known sustainability leaders are B Corps, such as Patagonia, Seventh Generation, Ben & Jerry's, Method, Etsy and Better World Books.
"A to Z Wineworks received high marks for having female management and owners, paying workers above living wage, and giving back to the community," says Jay Coen Gilbert, co-founder of B Lab, which launched in 2008.
On the environmental side, they farm uses biodynamic principles and has been working to spread the practice on more than 100 vineyards in Oregon.
Started in 2002 by two couples, the company has grown to 49 employees, offering "aristocratic wines at democratic prices."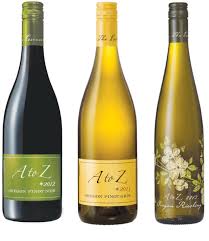 Although this is the first B Corp winery, almost half of Oregon's vineyards are farmed sustainably, according to the Oregon Wine Board, and interestingly, the state ranks #2 for the most B Corps in the US. The 47 Oregon B Corps include New Seasons Market, Neil Kelly Company, Bridgetown Natural Foods and Sustainable Harvest Specialty Coffee Importers.
Wineries generally have been leading on sustainable farming practices for a long time. In California, Sonoma County Winegrowers are creating the first 100% sustainable wine region in the world.
And recently, we featured
the world's first biodegradable, carbon-capturing winery, Château
Maris, a bio-dynamic and organic French winery in France.
Philadelphia actually rewards B Corps through tax breaks! A great idea that other cities should pick up on. They usually make up about a third of America's Most Promising Social Entrepreneurs, produced each year by Bloomberg BusinessWeek.
Some statistics on B Corps:
72% use renewable energy
51% have public-transit or carpooling incentives
30 times more likely to be located in green buildings
82% have programs for volunteering in their local community
74% are affiliated with local charities; 30 times more likely to donate at least 10% of their profits to charity
90% are locally owned, and they are three times more likely to be owned by minorities or women
44% offer some form of employee ownership
twice as likely to offer health insurance and retirement plans
25% save money as a direct result of B certification
For decades, companies that prioritize social and environmental concerns on the same level as profit, have wanted a special designation, and in 2010 they got it – registering a business as a Benefit Corporation is now legal in 27 states.
(Visited 4,899 times, 70 visits today)