Starting this year, a carbon tax is in effect in France.
Approved last year as part of the 2014 budget, it fulfills both of the country's top priorities: reduce the deficit to 3.6% of GDP and transition to efficiency and renewable energy, while reducing reliance on nuclear.
Taxing natural gas, coal and heating oil based on carbon content is expected to raise EUR 340 million this year. In 2015, when it also applies to transportation fuels, the number jumps to EUR 2.5 billion and in 2016, EUR 4 billion.
There's even a tax on nuclear energy. Almost all the money from the first years of carbon taxes will be funneled into the transition to renewable energy.
President Hollande: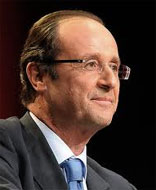 The tax starts at 7 euros per ton of carbon, rising to 14.5 euros in 2015 and 22 euros in 2016. For the poorest households, the government will subsidize the carbon tax.
Industrial companies that trade in EU's cap-and-trade program are exempt, as is the fishing industry. It also eliminates tax breaks for biofuels, saving another EUR 85 million this year.
The goal is to cut the use of fossil fuels 30% by 2030 and to reduce overall energy demand 50% by 2050. At the same time, it will raise renewables to 23% of energy by 2020 (from 13% now), while dramatically increasing green jobs.
Along those lines, France just approved its first offshore wind farm. At 500 megawatts, it's big but not enough to meet the government's 2020 goal of 6 gigawatts (GW). Because the government waited so long for costs to decline, it will likely only have 1 GW by then of offshore wind.
In 2012, France banned fracking and renewed the 2008 ban on genetically modified crops (GMOs).
In the US, a carbon tax is part of the Progressives' Budget.
(Visited 6,042 times, 4 visits today)