In a big success for fossil fuel divestment, Stanford announced it is getting out of coal stocks, the first major university to do so. It has already directed its portfolio managers to sell stocks and mutual funds affiliated with coal companies.
Although coal makes up a small portion of Stanford's endowment investments, the money still adds up in the $18.7 billion portfolio.
Stanford announced it "will not make direct investments in coal mining companies because of "the availability of alternate energy sources with lower greenhouse gas emissions than coal." What about utilities with a majority of coal-fired power plants?
According to the university's Statement on Investment Responsibility, which has been guiding investments since 1971, the primary obligation of trustees is to maximize returns to support the university. It also states that when the trustees judge that "corporate policies or practices create substantial social injury," they may include this factor in investment decisions.
The decision gives fresh momentum for student divestment drives underway at about 400 universities, after a searing defeat at Harvard recently, which refused to divest.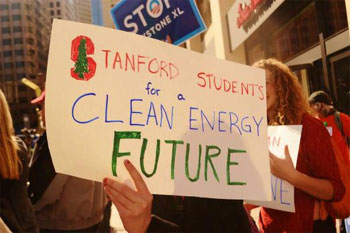 How It Happened
A year ago, students from "Fossil Free Stanford" petitioned Stanford's board to re-evaluate their energy holdings, and in response, they formed a study committee that included students, faculty, staff and alumni. After five months, they decided to divest specifically from coal among fossil fuel holdings.
"Fossil Free Stanford catalyzed an important discussion, and the university has pursued a careful, research-based evaluation of the issues," says Steven Denning, chair of the Stanford Board of Trustees. "We believe this action provides leadership on a critical matter facing our world and is an appropriate application of the university's investment responsibility policy."
"This is not the ending point. It's a process. We're a research institute, and as the technology develops to make other forms of alternative energy sources available, we will continue to review and make decisions about things we should not be invested in. Don't interpret this as a pass on other things," Deborah DeCotis, who chairs the board's committee on investment responsibility, told the New York Times.
"This victory marks not the end of our campaign, but a call to action and a demonstration that our generation has the power to shape its own destiny. With millions of lives from California to Bangladesh depending on swift action, we cannot afford to fail," says Fossil Free Stanford.
Stanford is well known for its research on sustainability and faculty have played key roles in the UN Intergovernmental Panel on Climate Change (IPCC). For example, Stanford University's Energy Modeling Forum conducted a study that counters the widely held view that natural gas is critical for lowering carbon emissions from coal. Another study shows that wind energy can easily supply half the world's electricity.
The university's new energy management system is expected to cut campus carbon emissions in half and converse 15% of water, adding to the 21% reduction already achieved.
Stanford joins nine other colleges, 20 cities, numerous religious institutions and a major bank, and foundations controlling nearly $1.8 billion in investments that have pledged to divest.
(Visited 16,563 times, 12 visits today)