Five offshore wind projects have been approved in the UK, which together will produce 4% of the country's electricity – powering 3 million homes – while creating 8500 jobs.
Adding up to 3.2 gigawatts (GW), the projects are:
258 MW Liverpool Bay -Dong Energy
402 MW Dudgeon Wind Farm – Statoil/Statkraft
660 MW off the coast of Cumbria – Dong Energy
664 MW Beatrice windfarm in the Outer Moray Firth in Scotland
1.2 GW off the coast of Yorkshire – consortium
The UK already leads the world in offshore wind with nearly 3 GW as of 2012 – more than the rest of the world put together. Last year, the first phase of London Array – the world's largest offshore wind farm – came online, bringing electricity to 500,000 homes: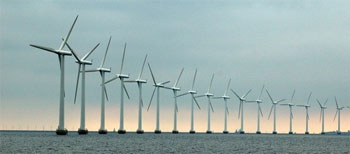 1.4 GW of biomass projects are also approved for three projects, one of which will convert part of the UK's largest coal power plant and another that will run on combined heat and power.
"These are the first investments from our reforms to build the world's first low carbon electricity market – reforms which will see competition and markets attract tens of billions of pounds of vital energy investment whilst reducing the costs of clean energy to consumers," says Edward Davey, UK Energy and Climate Change Secretary. "It's practical reforms like these that will keep the lights on and tackle climate change, by giving investors more certainty."
By 2020, the projects will provide up to £12 billion of private sector investment, he says. Under the Electricity Market Reform program, developers and generators receive guaranteed fixed prices for the electricity they produce for 15 years.
Davey also says renewable energy's share of UK's total electricity generation has more than doubled since 2010 to 17.6%, and is expected to deliver over 30% in 2020. Solar is booming and should grow even faster under the new Solar Strategy.
Although RenewableUK is pleased with the projects announced, it's not enough to provide energy security. More offshore and onshore wind projects are needed, Maf Smith, deputy chief executive, told The Guardian. The government recently shifted its focus to offshore wind and other renewable sources because of citizen pushback against onshore projects.
As for the biomass projects, they are extremely controversial, with more studies showing they actually increase emissions. In this case, partially converting a coal plant to biomass will allow coal to be burned long into the future, instead of shutting it down, Oliver Munnion at Biofuelwatch told The Guardian.
"Even after the conversion they'll be burning some 3.7 million tonnes of coal every year from opencast mines in the UK and imported from places like Colombia, where communities have been forced off their land for expanding mines. Biomass isn't about renewable energy, it's about keeping old, polluting power stations running, when they should be closing down."
Other environmental groups point out that more offshore wind is good, but more attention is needed on energy efficiency, and the government needs to "abandon its reckless pursuit of fracking – which is dirty, unpopular and will not deliver for years," Alasdair Cameron, at Friends of the Earth, told The Guardian.
Fracking Opposition


Incredibly, while the government has modified plans for large solar and onshore wind because of pushback, it plans to open two-thirds of the country's land for natural gas fracking! Citizens are understandably alarmed and there have been protests across the UK.
Residents in the village of Balcombe, for example, are so infuriated by the prospect of fracking – even accosted by riot police during protests – they are converting entirely to solar by selling shares through their new coop, REPOWERBalcombe.
(Visited 8,055 times, 6 visits today)