The always highly anticipated UN climate change report from the Intergovernmental Panel on Climate Change (IPCC) was released yesterday and unless we live in a fantasy world, there are no surprises.
Before issuing this report – the first update since 2007 – nearly 500 government officials (115 countries) and scientists huddled in Yokohama, Japan, obsessing over every word. They all had to sign off on it.
Production involved 309 coordinating and lead authors and review editors from 70 countries. They were assisted by 436 contributing authors, and 1,729 expert and government reviewers. The final product is 2,610 pages in 32 volumes.
The report is divided into three installments. The first, released in September 2013, covers the physical science of climate change. This second installment updates research on climate impacts, to be followed by mitigation strategies (April) and lastly a synthesis report on all the installments (October).
Scientists point to one bright spot amidst the frightening data. Since the 2007 IPCC report, there's growing evidence that governments and corporations are making serious adaptation plans.
Summary of IPCC's first installment, Climate Change 2013: The Physical Science Basis:
Warming in the climate system is unequivocal and is caused by humans through emissions of fossil fuels and clearing forests
It will get much worse unless immediate, prolonged and vigorous action is taken to severely reduce the world's emissions.
For the first time, scientists put forth a "carbon budget" for humanity – the upper limit of carbon emissions from industrial activities and forest destruction.
Scientists expect warming to exceed the 2C threshold, where feedback loops and long-term changes kick in.
Summary of this second installment, Climate Change 2014: Impacts, Adaptation and Vulnerability :
The effects of climate change are already affecting every country and all oceans, but humanity is ill-prepared for the consequences.
Because climate change is well underway, moving much faster than earlier projections, even a small amount of further warming could lead to "abrupt and irreversible changes."

The tipping point has already arrived for coral reefs and Arctic ecosystems, which are experiencing irreversible shifts. Other parts of the world could soon be at a tipping point.

With high levels of warming that result from continued growth in greenhouse gas emissions, risks will be increasingly challenging to manage, and even serious, sustained investments in adaptation will face limits.
Dates for Climate Departure: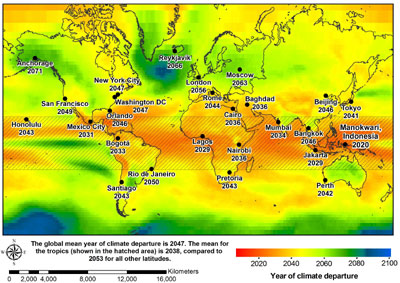 For the first time, the report describes the effects of climate change as a series of risks, which multiply as temperatures rise – food production, fisheries, drinking water, power outages, etc. all of which will impact vulnerable populations the most, including the young, elderly and poor in all countries.
Without quick, strong action, rising seas will devastate coastal areas, there will be widespread hunger from droughts and floods, and extreme storms could threaten infrastructure and emergency services.
"Nobody on this planet will be untouched by the impacts of climate change," Rajendra Pachauri, IPCC Chair, told Associated Press.
Scientists still say these risks can be minimized if aggressive action occurs immediately, and governments need to act now to implement adaptive measures that protect their citizens.
"We definitely face challenges, but understanding those challenges and tackling them creatively can make climate-change adaptation an important way to help build a more vibrant world in the near-term and beyond," says Chris Field, Co-Chair of the Working Group.
As in the last installment, scientists concur that climate change is now locked in because of past, present and expected future emissions. Even if greenhouse gas emissions suddenly stopped, it would take thousands of years for atmospheric carbon to return to pre-industrial levels.The question now is how far humans will allow it to get out of hand.
John Kerry, Secretary of State, says, "Read this report and you can't deny the reality: Unless we act dramatically and quickly, science tells us our climate and our way of life are literally in jeopardy, the costs of inaction are catastrophic. The clock is ticking. The more we delay, the greater the threat. Let's make our political system wake up and let's make the world respond."
While we often hear that 97% of the world's scientists concur on IPCC's analysis, geochemist James Lawrence Powell counted them: out of 10,855 climate studies published in peer-review journals last year alone, just two rejected human-caused global warming.
While much of the mainstream media and cable news ignored the report as usual, NBC Nightly News, ABC's "World News" and CBS Evening News had detailed segments.
CNN managed to cover the report in one minute of air time, compared to 20 minutes on MSNBC's Rachel Maddow show. The five minutes on Fox News was dedicated mostly to the crazy idea that anyone would want to bother studying climate change at all. One of Fox's well known pundits, Bill O'Reilly, accused climate change activists of wanting to destroy the economy based on a "phantom global warming theory" when "no one knows whether it's true," reports ThinkProgress
Scientists at Climate Central summarize the report with graphs and brief analysis:
(Visited 9,829 times, 8 visits today)