There's no getting around the grim facts on climate change, repeated again in the latest update of the United Nations IPCC report, but the world can still get its act together.
How that would look is imagined in sustainable design firm Arup's latest report, Cities Alive, which follows one released last year, It's Alive. That report envisioned buildings that breathe and adapt, producing food (Vertical Farms), energy and resources by 2050.
Cities Alive takes it up a notch to imagine what cities as a whole will look like as a response to climate change and population growth: integrated networks of intelligent green spaces, designed to improve the health and wellbeing of citizens.
The basis for design is for urban environments that promote nature as a key driver, recognizing its role in underpinning economic prosperity, health and wellbeing. Cities need to be conceived as socially cohesive, biodiverse urban environments in a connected ecosystem for people and wildlife that builds in resilience measures for protection from storms, floods, heat, drought and pollution, Arup says.
Architect Michael Sorkin visualizes New York City: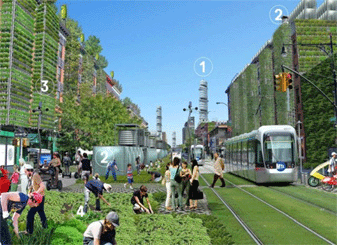 Linked city ecosystems will have parks, farms, woodlands, green streets and green facades and roofs, sustainable drainage systems, rivers, bike and walking paths.
While green space is often an after-thought today in urban development, either due to cost, lack of space, or lack of understanding of its benefits, its impact on the health and wellbeing of citizens and a city's carbon footprint warrants far more attention, says Tom Armour, who leads Arup's Landscape Architecture Group. "We should be developing cities to promote biodiversity rather than hamper it. As space becomes more precious, this planning needs to be a fundamental consideration, not an optional add-on."
We've all heard this many times, but it bears repeating: "Our current mind-set is that economic success requires increasing consumption – instead we should be valuing processes that reduce consumption – instead of focusing on GDP growth, we should place more value on improving health, education and quality of life," says Peter Head, who wrote "A New Approach to Resources" and is quoted in the Arup's report.
Read our articles, New Green Building Certification Focuses on Landscapes and Check Out the World's Largest Living Wall.
Check out Biophilic Cities and Download the report:
(Visited 6,477 times, 128 visits today)