Last month we reported that Kansas managed to evade ALEC's solar-killing bills that are now under consideration in numerous states.
Kansas ended up diluting the net-metering law and rejected attempts to purge the Renewable Portfolio Standard. Koch-backed groups funded the attack, claiming that renewable energy is expensive and destroys local economies.
That's because they never expected solar to be a threat and are rocked by the fact that since 2010, US solar has skyrocketed 418%, from 2.3 gigawatts (GW) to 12 GW as of February, according to the US Energy Information Agency.

Oklahoma, the deepest of the red states, passed the legislation handily though, by 83-5 in the House without any debate. Going forward, anyone who installs solar or small wind will pay a monthly surcharge, discouraging more people to install solar systems.
"We knew nothing about it and all of a sudden it's attached to some other bill," Ctaci Gary, owner of Sun City Oklahoma, told ThinkProgress. "It just appeared out of nowhere."
The amount of the surcharge has yet to be determined, but people are already rushing to get their systems up before the law takes effect, Gary told ThinkProgress.
The Governor signed the bill with one important caveat: the Oklahoma Corporation Commission, which will set the price, must consider that distributed energy is essential to the state's energy policy.
All stakeholders, including the wind and solar industry, must be considered in deciding on the surcharge, the Governor's Executive Order says.
Now all eyes are on Ohio, where Senate Bill 310 would freeze the Renewable Portfolio Standard at current levels and eliminate its successful Energy Efficiency Resource Standard.
Businesses are lined up for and against the bill: Utility FirstEnergy, steelmaker Timken Co. and Marathon Petroleum favor it and Honda, Whirlpool and Owens Corning oppose it, reports The Columbus Dispatch. Proponents view renewable energy as a drag on the economy while opponents believe efficiency and renewable energy attract economic investment and encourage growth.
Since Arizona's utility added a monthly surcharge of $5 (down from their $50-$100 per month proposal), the number of new solar systems have plummeted.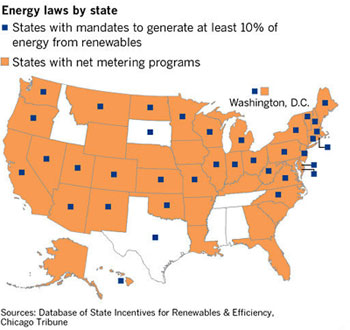 115,000 Solar Systems for PG&E
California utility Pacific Gas & Electric announced that its customers are now producing just over 1 gigawatt of solar electricity across 115,000 installations – the most of any US utility.
That's half of all solar systems in California and a quarter of those in the US. All three California utilities now get 20% of their electricity from renewables.
Since 2011, the number of solar systems in PG&E's territory has doubled and the pace continues as 2500 new solar systems are added every month – thanks to a streamlined permitting system that gets peoples' applications approved in 5 days. An additional 4.5 GW of solar comes from utility-scale projects.
While PG&E says it strongly favors community solar, they too are pushing for changes to net-metering. AB 327, passed last year, calls for the California Public Utilities Commission (CPUC) to design a "successor tariff," which hearings are about to be held on.
And the big California utilities have been fighting for surcharges on solar systems that have batteries – $800 for an interconnection application fee plus other charges totaling $1,400 to $3,700. Further, such systems would have to be extensively reviewed for "safety purposes" and to make sure customers wouldn't cheat by claiming net-metering credits when they simply storing energy from the grid.
CPUC responded with an alternative proposal: batteries can't store more energy than the solar array at 10 kilowatts or more, and a separate meter would track the relationship between electricity generation and battery charging. A decision is expected next month.

As in every state where such bills are introduced, ALEC (70 bills in 37 states last year) and utilities – whose business is threatened by small, independent power producers – call people with solar "free-loaders." A surcharge is necessary, they say, because everyone must pay for maintaining the grid.
But utilities ignore the benefits of small solar and net-metering – producing the most energy during peak demand electricity is most expensive; alleviating pressure on transmission infrastructure and avoiding the expense of building new power plants.
These battles are just getting underway, say utilities, ALEC and the various Koch Brother-backed front groups like Americans for Prosperity. Duke Energy is targeting North Carolina, for example.
"The intention of these proposals is to eliminate the rooftop solar industry," Bryan Miller, president of Alliance for Solar Choice, told the LA Times. The group formed to fight these attacks.
Their other targets for 2014: prevent EPA power plant regulations, get the Keystone XL pipeline approved as well as industry-friendly fracking rules.
ALEC is tracking 131 bills on this front, here are the highlights!:
(Visited 20,748 times, 3 visits today)