Hemp is used in hundreds of products, but here's a new one: a hemp wine cellar.
Château
Maris, a bio-dynamic and organic French winery, has created a net-zero energy building by using bricks made from organic hemp and lime. Topped by a green roof with solar panels, it produces as much energy as it consumes.
The bricks create a 9,000-square-foot wine cellar that's both energy self-sufficient and biodegradable. They not only maintain consistent temperature and humidity, they also absorb carbon from the surrounding environment. And there's no need for systems that heat, cool or ventilate the structure.
Hemp has amazing qualities – the material both insulates and is "breathable" – keeping the building warm in winter and cool in the summer at a consistent 54°-63°F. Two exterior walls connected by an air tunnel also insulated against extreme temperatures. If more airflow is needed to lower the heat created by fermentation, there's a manual duct in the cellar's roof that can be opened and closed.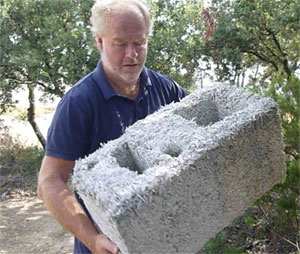 Why Hemp?
Wouldn't it be great if all business went through such a careful analysis of the materials they use? Here's how the two owners decided on hemp.
After five years of research, they chose a hemp/lime combination after evaluating other natural options such as stone, rammed earth and even straw.
Why? Because they examined the lifecycles of potential materials and hemp was the least expensive and locally produced.
Hemp doesn't require irrigation or fertilizers and its rapid root growth creates good soil structure, controlling erosion. They are using hemp straw – what's left after the crop is made into an assortment of products from rope to clothes to paper. It's inexpensive because Europe provides some subsidies for the crop and it fit the bill for low-carbon transport because hemp farms are nearby.
Even better, the hemp bricks are very light, making them easy to transport. A two-foot thick brick weighs 33 pounds. And when lime is added to harden hemp straw into bricks, the chemical transformation into limestone carbonate captures and sequesters carbon.
They basically created a biodegradable building that sequesters carbon – an estimated 44 kilos per square meter – for the next 20-25 years.
Château Maris is applying for LEED-Platinum certification. In addition to using LEDs for all lighting, they capture rainwater, recycle gray water, and have plans to run 100% on wind and solar.
To top it off, the wines are in recycled glass bottles with recycled paper labels, and the company donates $1.50 from each bottle sold from three wines to the Jane Goodall Institute, Rainforest Foundation or International Polar Foundation.
This year, the winery plans to sell 300,000 bottles, at such notable restaurants as NYC's Waldorf Astoria.
"Our sales are at record highs and we continue to grow rapidly driven by the growing interest in products that are sustainable and organic," says co-owner Kevin Parker, who previously headed Deutsche Asset Management. He is now also CEO of Sustainable Insight Capital Management, which creates client portfolios around companies with superior environmental, social and governance practices.
(Visited 7,238 times, 23 visits today)