In an interesting twist on the Keystone XL pipeline saga, the route through Nebraska that the governor approved has been thrown out by a county judge.
The court ruling rescinds Governor Heineman's notification to President Obama that Nebraska legal procedures have been satisfied, says Bold Nebraska.
Three Nebraska landowners didn't want the pipeline to traverse their land, but the governor allowed TransCanada to do it through eminent domain.
Landowners challenged the constitutionality of that in court – and they won.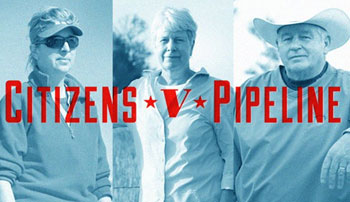 How It Happened
Under Nebraska's Major Oil Pipeline Siting Act, the governor can't singlehandedly approve the route for a pipeline – rather, the decision is up to the state's Public Service Commission, which regulates pipelines and other utilities, the judge said.
The judge called LB 1161 unconstitutional – a state law passed in 2012, which gave Governor Heineman the right to declare eminent domain and approve the Keystone XL pipeline route through the state.
"Citizens won today. We beat a corrupt bill that Gov. Heineman and the Nebraska Legislature passed in order to pave the way for a foreign corporation to run roughshod over American landowners. We look forward to the Public Service Commission giving due process to a route that TransCanada will have to now submit to this proper regulatory body in Nebraska. TransCanada learned a hard lesson today: never underestimate the power of family farmers and ranchers protecting their land and water," says Jane Kleeb, director of Bold Nebraska.
"Under the Court's ruling, TransCanada has no approved route in Nebraska. TransCanada is not authorized to condemn the property against Nebraska landowners. The pipeline project is at standstill in this State," says Dave Domina, the attorney who represented the landowners.
The ruling triggered fear in neighboring Iowa, which is also on the pipeline's route. Two Iowa state legislators, a Democrat and Republican, called on the State Department and Congress to reject Keystone.
"I urge you to stand with those land-owners who do not want this pipeline running through their property," writes Republican Rep. Kaufmann. "The interests in oil profits should not supersede the rights of property owners."
"It is not in America's national interests to allow a foreign oil company to condemn American farms and ranches to take foreign oil to the Gulf Coast for sale on the global market," writes Democrat Sen. Hogg. "The Keystone pipeline threatens America's land, water, and wildlife – Congress should say no, the State Department should say no, and President Obama should say no."
Landowners along the southern leg of the pipeline – which is now operating – have also been forced to allow it on their land against their wishes. Some are suing.
Mums the Word in Canada
Meanwhile in Canada, "environmental organizations that oppose tar sands expansion have become the subject of rigorous audits that could force some to shut their doors," reports InsideClimate News.
This is in addition to Prime Minister Stephen Harper's gutting of environmental laws and firing scientists that get in the way of unfettered growth of tar sands extraction and pipelines.
In his quest to silence critics of pro-tar sands policies, seven influential environmental organizations are the subject of rigorous audits by the Canada Revenue Agency.
As in the US, this analogous agency to the IRS is investigating whether they are abusing their nonprofit status by using more than 10% of their resources for political advocacy.
Groups under investigation are Environmental Defence, David Suzuki Foundation, Tides Canada, West Coast Environmental Law, Pembina Foundation, Equiterre and the Ecology Action Centre.
These groups have been instrumental in raising public awareness about the impacts of tar sands development, stoking a grassroots movement that's put in question the Northern Gateway pipeline and together with US groups, raised the visibility of the Keystone XL pipeline, says InsideClimate News.
"They told us that basically everything we do is no longer charitable," says Tim Gray, executive director of Environmental Defence, which has filed an appeal. The organization's future is uncertain if the appeal is struck down.
Since ultra-conservative Harper took office in 2006, production of tar sands crude has doubled, with the goal of doubling again.
The attack is working. Environmental groups are pulling back from critiquing the government because it could mean the end for their organization.
Doctors Too
Incredibly, doctors are also afraid of speaking out against oil development in Canada, reports Edmonton Journal. Doctors have actually declined to see people who complain of health issues that could be related to emissions from tar sands operations. In one case, a lab even refused to process a test when they found out the analysis would be used to investigate the link to air emissions.
People have gone to doctors complaining about powerful, gassy smells and symptoms of dizziness, headaches, muscle spasms, vomiting, numbness and other health issues. But when they connected the symptoms to possible air emissions, the physician refused to give the person care.
Read the full article:
(Visited 76,299 times, 8 visits today)