After announcing the development of fuel economy standards for buses and trucks this week, the Obama Administration is about to issue another rule.
"To increase consumer awareness regarding the use and benefits of alternative fuels," writes the National Highway Traffic Safety Administration, they will require car manufacturers to label vehicles indicating the kinds of fuels they can use: ethanol, biodiesel, vegetable oil, hydrogen or electric batteries.
In addition to a permanent label on the vehicle exterior, a second sticker will be on the fuel tank compartment, and text in the owner's manual will provide information on the "capabilities and benefits" of using alternative fuels.
"Helping the public to better understand the benefits of these alternative fuels and to better recognize the vehicles that use them should increase their use, thereby replacing petroleum use and increasing national energy security," explains the National Highway Traffic Safety Administration to The Hill.
The rule applies to new passenger cars and light-duty trucks sold in the US and is in addition to new EPA stickers that give information about the vehicle's fuel economy, greenhouse gas emissions and smog-forming emissions in a way that can be easily compared across vehicles.
EPA's labels, which debuted on 2013 model year vehicles, ranks the vehicle from 1-10 on combined fuel economy and greenhouse gas emissions, and shows what the fuel savings will be over five years. It also includes a website URL where people can learn about petroleum pollution.
This sticker appears on the Chevy Volt: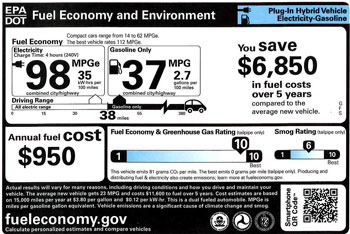 Comments are currently being accepted on the proposed renewable fuels sticker.
In 2012, GM announced it would add its own voluntary eco-label, "Ecologic" along with EPA's, that shows the lifecycle impact – how much energy and resources it takes to produce a car, pollution generated during production, and what happens to the car at end-of-life.
(Visited 5,728 times, 3 visits today)