by Rona Fried
If you follow our news, you know that we sometimes stray from our green business focus to cover some of the crucial wildlife issues because we care so much and it's all connected …

Today I have good news to share – because wildlife groups never give up, a federal appeals court ordered Idaho's Department of Fish and Game to immediately halt its state-sponsored extermination of two wolf packs deep in the wilderness.
"The announcement represents a stay of execution for the remaining wolves that constitute the Golden Creek and Monumental Creek wolf packs, which inhabit the Middle Fork region," says Earthjustice, the attorney representing conservation groups. At 2.4-million-acres it is the largest forested wilderness in the lower 48 states.
A member of the Golden Creek wolf pack: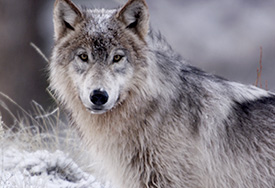 Nine wolves from the two packs have been killed by the state's hired hunter-trapper, and it's not known how many wolves remain alive. He has been living in the wilderness since mid-December, charged with eliminating every single wolf, including pups. The emergency court injunction stays in force for the state's fiscal year, which ends June 30 – then they will have to fight again.
Why is this happening? Because wolves eat elk, which hunters enjoy killing for sport.
This region of the Frank Church Wilderness is remote. Even though it has one of the lightest densities of hunters in the state, the Department of Fish and Game wants to inflate the number of elk.
The Forest Service, which is responsible for managing US wilderness areas, failed to object to the state's plans and instead actively assisted them by authorizing use of its cabin and airstrip to support the hunting and trapping.
Does federal law matter? This is illegal! Once an area is designated as "Wilderness," the law requires that it be managed for wildlife – where wild processes, including predator-prey interactions, occur without man's interference.
Monumental Wolf pack: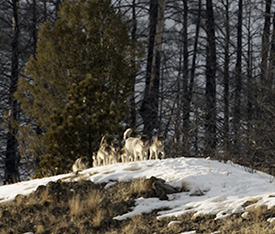 Wildlife groups, represented by Earthjustice, sued the Idaho Department of Fish and Game and the U.S. Forest Service earlier this month, arguing that the wolf extermination program would degrade the largest forested wilderness in the lower-48 states.
After an Idaho federal judge rejected their plea to stop the extermination program on January 17, they took their fight to the court of appeals, where they filed an emergency request for an injunction on January 23.
This is bittersweet news," says Ken Cole with the Western Watersheds Project. "I am happy that Idaho Department of Fish and Game relented but it is unfortunate that so many wolves have been taken in this senseless plan to manhandle wildlife in an area that Congress recognized as a wilderness 'where the earth and its community of life are untrammeled by man.'"
My heartfelt thanks for the relentless advocacy on the part of Earthjustice, Defenders of Wildlife, Center for Biological Diversity, Western Watersheds Project, Wilderness Watch and long-time Idaho wilderness advocate Ralph Maughan.
They have their work cut out for them. Idaho is still hell-bent on reducing the wolf population to just 150 animals – the minimum allowed before they go back on the Endangered Species List. That means killing 500 more. The same is going on in Wyoming – altogether 2500 wolves have been killed in the past few years, since Congress turned back their management to the states.
Rep. Mike Simpson (R- ID) and Senator Jon Tester (D-MT) inserted a rider into the 2011 Budget resolution that, for the first time in US history, removed a species from the
Endangered Species List based purely on political reasons, not science. They ended protection for the 1500 gray wolves in those two states with the stroke of a pen.
It was a shameful day for this nation when both parties united behind the slaughter of an endangered species — without public hearing or debate. Since then, management of gray wolves has also been returned to Wyoming and the Great Lakes states.
Wolves had just reached healthy populations in those states after decades of work of bringing them back from the brink of extinction. They covered just 5% of their original range.
The US Fish and Wildlife Service is working on removing protection across all the lower 48-states. In Alaska, they still hunt them by helicopter.
++++
Rona Fried is CEO of SustainableBusiness.com
(Visited 5,870 times, 10 visits today)