As President Obama prepares for his State of the Union speech, protesters of the Keystone tar sands pipeline are there to greet him. They are asking him to make a choice: 'Be remembered as a climate champion or the pipeline president.'
They are outside the Capitol building right now, parading a 100-yard inflatable pipeline. He has "all the information he needs to reject Keystone XL and he should do so in the State of the Union," say the organizers, 350.org and Friends of the Earth.
When I received an email from the White House asking what I hope to hear, that's exactly what I said: Reject the Keystone Pipeline. He won't, of course.
The State Department is expected to issue its final environmental impact statement on the pipeline within days.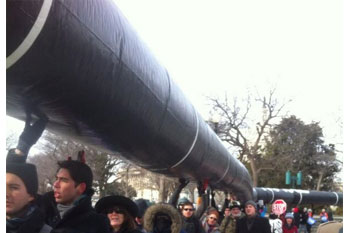 Meanwhile, billionaire activist Tom Steyer's climate super PAC is running a TV ad on MSNBC before and after the State of the Union speech. The one-minute ad calls Keystone XL a "sucker's deal for America" and shows how the oil is headed for China.
"Keystone means more profit for investors like China, more power for their economy, and more carbon pollution for the world," the ad says. It airs three days after the latest TransCanada pipeline leak, this time a natural gas pipeline exploded in Canada.
Obama already leaked one of the announcements he'll make tonight – that he will use his executive power to set a minimum wage for all federal government contractors.
On the environmental side, he will discuss the EPA's rules that restrict emissions on new power plants and will likely say the next step is to do the same for existing plants.
Over 550 labor, environmental, family farm and consumer organizations sent a letter to Congress today opposing Fast Track legislation for the Trans-Pacific Partnership (TPP) and other pending trade agreements. Corporate interests want him to use the speech to call on Congress to enact Fast Track authority for the TPP.
Progressive thinktank Center for American Progress outlines the following steps that Obama "should" say in his speech. In addition to those enumerated in his Climate Action Plan:
1. Establish an ambitious national climate target
The US is close to meeting Obama's target of cutting emissions 17% by 2020 (from 2005 levels). It's time to update that 2009 target for the 2030 timeframe. He used his executive power to set a renewable energy target for the federal government – 20% by 2020.
2. Urge Congress to renew the wind production tax credit and extend all renewable energy credits through 2020.
3. Permanently ban oil drilling in the Arctic Ocean.
4. Establish a carbon emissions reduction plan for our public lands – national parks, forests, rangelands and coasts. Because of the millions of acres leased for fossil fuel extraction, our public lands currently emit 4.5 times the carbon than they absorb. A Clean Resources Standard would target cuts to methane and other emissions during fracking and raise minimum bids for leasing land for coal extraction.
(Visited 4,091 times, 2 visits today)