Remember when AT&T
was called Bell Labs and was known for its groundbreaking research? Maybe not,
but it's been 60 years since Bell introduced the first solar cell, which cost
$268 per watt!
By the 1970s, the technology was down to $55 a watt, and that's when a handful
of people got together to establish a trade association to grow the nascent
industry. This year, the Solar Energy Industries Association (SEIA) is
celebrating its 40th anniversary and the many successes of this
important industry.
Bell Labs first solar cell: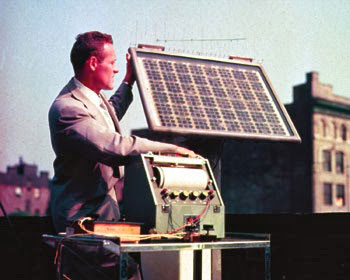 Even though there are more than 6100 solar companies employing 120,000
Americans, too few people are aware of its size and scale in the US. The media
barely covers it and when they do it's often on Solyndra-style stories like the
recent 60 Minutes debacle.
Therefore, SEIA wants you to take part in National "Shout Out For Solar"
Day on Friday, January 24 that's taking place on Facebook, Twitter
#gosolar and other social media platforms. Hundreds of business and
environmental groups are also involved. The event marks the launch of SEIA's
"America Supports Solar" campaign, which will highlight solar energy's
explosive growth across the US and its record-shattering year in 2013.
The US has 13 gigawatts of solar installed – enough to power more than 2
million homes – and is expected to grow another 30% this year. We're now
up there in the big leagues with Germany and China.
Learn more about National Shout Out for Solar Day:



(Visited 5,988 times, 4 visits today)