Construction on Latin America's first concentrating solar plant starts this year, and Abengoa won the $1 billion contract.
The 110 megawatt solar tower project with molten salt energy storage will be built in Chile on the world's driest desert. Atacama Desert has the highest
solar radiation concentration in the world.
While Abengoa's parabolic concentrating plant in Arizona is more than twice the size, Solana can only store energy for six hours. Chili's plant will be able to produce energy without sunshine for a very impressive 17.5 hours.



"This makes the technology highly manageable, enabling it to
supply electricity in a stable way, 24 hours a day, responding to all periods
of electricity demand," says Abengoa.
The world's largest solar tower plant, Ivanpah, is 377 megawatts and is also in Arizona: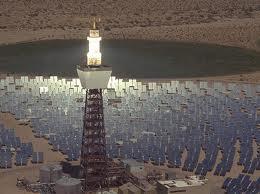 Construction and operation of the project is expected to catalyze regional socio-economic development, creating a large number of direct and indirect jobs.
The Chilean Government and European Union are supporting the project through subsidies in addition to financing from the Inter-American Development Bank, KFW Kreditanstalt fur Wiederaufbau, the Clean Technology Fund and Canadian Fund.
Chile's goal is to get 20% of its electricity
from renewable energy by 2025.
Abengoa, the only company that builds and operates solar thermal (concentrating solar) plants using both tower and parabolic trough technologies. It has 1.2 gigawatts of installed capacity worldwide, with another 750 megawatts in the pipeline. Based in Spain, Abengoa recently also had an IPO in the US (Nasdaq: ABGB).
Abengoa is also very active in cellulosic biofuels.
(Visited 7,801 times, 6 visits today)