Although
most of us still don't see many plug-in vehicles on the roads (except if
you live in California), almost 100,000 sold last year in US.
But that's nowhere near enough so proponents are launching Formula E,
an electric car race where people like Richard Branson and Leonardo DiCaprio will compete for the championship. One-hour races will take place in major cities, including London, Los Angeles and Beijing from September 2014 to June 2015,
"We are a championship on a
mission, and the mission is to have more electric cars on the streets all
around the world," says Alejandro Agag, CEO of Formula E.
Some pretty cool cars will be racing, like this one from Spark Racing Technologies, that can reach 150 miles per hour.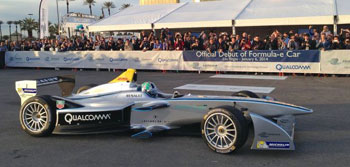 photo Hannah Dreier, AP
2013 EV Sales
Yes, EV sales are running behind all the lofty projections, such as 1 million on the road by 2015 (hoped President Obama in 2008) or 260,000 by 2013 (Department of Energy). But the only time even hybrids sold in huge numbers was when gas cost over $4.
For the rest of us, we expected a slow, fairly steady march forward. So, looking at sales of 96,000 is a pretty big rise from 2011 when only 18,000 sold. Last year people
bought 49,000 plug-in hybrids and 47,600 electric
vehicles, reports Ward's Automotive.
Tesla's Model S accounts for 18,800 sales and Nissan's Leaf, 22,610. To reach
those numbers, Nissan had to lower its price to a more affordable $28,800;
it also increased the cargo room and included an on-board charger
that cuts charging time in half. On the other hand, sales of GM's Volt
fell 1.6% for the year at 23,000 and will be $5000 cheaper this year. Ford's
Focus EV will also get a mark down of $4000, bringing it
to $35,200 after selling only 1,500 in 2013. Honda cut the lease
price for its electric Fit by $100 a month.
Meanwhile, "traditional" hybrids reached sales of 489,400, up
15.3%. As usual, the Prius and other Toyota models took up much of
that at 60%.

The lastest projections from Navigant Research are 35 million hybrids and
plug-ins on the roads worldwide by 2022.
Top Metro Areas for EVs
1.
San Francisco Bay Area: San Francisco, Oakland, San Jose
2. Seattle
3. San Diego/ Los Angeles area
4. Austin, Texas
5. Honolulu, Hawaii
ChargePoint, which has the largest charging station
network in the US, came up with the list which, not surprisingly is
connected to the availabilitiy of EV charging stations in the region.
"The cities
and the businesses in those communities that invest in EV infrastructure, not
surprisingly, also see the largest sales in electric vehicles. We are no longer
debating if EVs have a future, but instead are witnessing cities across America
compete to be the most EV friendly," says Pasquale
Romano, ChargePoint CEO.
While Los Angeles / San Diego has the greatest number of EV drivers –
over 17,000 – San Francisco Bay leads the nation because of
population differences between the two regions. There are nearly 4000 charging
stations in the San Francisco Bay Area serving 15,000 EV drivers there.
North Carolina is taking steps backward, however. The people who own the 1600 EVs in the state will be charged an extra $100 a year. They too have to chip in to maintain the roads, says the NC Department of Transportation. Everyone else (including hybrid drivers) pay for that through gas taxes, they say.
Although it's a small "penalty" it's at odds with the goal of promoting EVs, notes Rob Fowler of the Modern Automotive Network (which owns dealerships).
The Department of Transportation also closed four free charging stations at highway rest stops, installed through a grant from the NC Department of Commerce Green Business Fund Program. The legislature requires that people pay for charging, so they had to close, reports McClatchy-Tribune Regional News.
In October, governors of eight states agreed to collaborate to get 3.3 million zero emission vehicles on the road by 2025. It costs two-thirds less to charge a car than to fuel with gasoline, saving people about $6000 over the life of a car – hopefully people will figure that out soon.
10 Best States for Electric Cars: states with the lowest electricity rates and the highest gas prices.
(Visited 7,997 times, 11 visits today)