Sadly, another organic foods pioneer is biting the dust as it is gobbled up by a conventional food company.
Earthbound Farm, the largest organic produce grower in the US, is selling to WhiteWave, recently spun off from Dean Foods – the biggest dairy company in the US.
Earthbound Farm, which started in 1984 as a farm stand, has a 60% share of the bagged organic salad market. Still family-owned, it is selling for $600 million.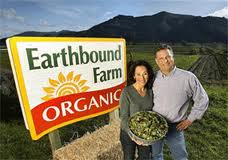 WhiteWave is another "previous pioneer" that turned conventional. Founded by Steve Demos, he brought organic soymilk into the mainstream market, but after selling the company to Dean, it went downhill from there. In just three years of owning WhiteWave, Silk soymilk was downgraded from certified organic to the meaningless "natural" label. Horizon Organic – the biggest organic brand – is also owned by WhiteWave.
Demos bought organic soybeans from US growers, but when Dean bought the company, it insisted they meet the low prices of organic soybeans from China. Because organic soy is labor-intensive, that wasn't possible, so Dean started sourcing beans from China. Then, when Silk led the organic soy milk market, Dean switched to buying conventional soybeans in the US, without so much as changing the price or the UPC codes used by retailers.
The same is true for Horizon. Under Dean's ownership, it bought up lots of small organic dairies and diluted their organic principles.


Last year, Dean spun off WhiteWave in an IPO. "With Horizon Organic and Earthbound Farm, WhiteWave will now provide the two most popular gateways for consumers to enter into the organic category – produce and dairy," says WhiteWave CEO Gregg Engles.
With the purchase of Earthbound, WhiteWave is gaining undue influence, says Mark Kastel, co-director of organic industry watchdog Cornucopia. "This new acquisition even gives corporate lobbyists at the former Dean Foods/WhiteWave a direct conduit to the National Organic Standards Board via John Foster, an employee of Earthbound and a Board member.
"WhiteWave has a long record as a bad actor in its treatment of family farmers, both conventional and organic, and taking advantage of the goodwill of organic consumers. Its acquisition of another industrial-scale organic agribusiness further consolidates power in the marketplace," bemoans Kastel.
The documentary, The New Green Giants, includes an interview with Steve Demos where he talks about his betrayal by Dean Foods, who promised him they would retain his values.
(Visited 19,430 times, 21 visits today)