"Without a doubt, 2013 will go down as a record-shattering year for the U.S. solar industry," says Rhone Resch, CEO of the Solar Energy Industries Association, as he announced the results for the third quarter (Q3).
With 930 megawatts (MW) added in Q3, solar is the second largest source of new US electrical capacity, trailing only natural gas.
Thanks to strong growth in residential solar – the biggest gains ever – and with gigantic utility-scale solar plants coming online, solar capacity rose 20% in Q3 (from Q2) and 35% from Q3 2012. Residential installations rose 43% from Q3 2012.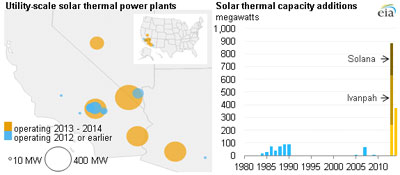 "We've now joined Germany, China and Japan as worldwide leaders" when it comes to the pace of new solar capacity, says Resch. This year, the US will install more solar than Germany.
So far this year, corporations, such as Walmart, Macy's and Staples, have added over 445 MW on 1000 buildings in 30 states, 48% more than a year ago.
All told, the US will install about 4.3 gigawatts (GW) this year, bringing the cumulative total close to 15 GW, a rise of 27% from 2012.
By year end, over 400,000 solar projects will be operating across the country, according to U.S. Solar Market Insight: 3rd Quarter 2013.
Additional Key Data:
While utility solar represented more than half of new PV capacity installed in Q3 2013, the residential market posted the segment's largest quarter ever with 186 MW installed
Blended average PV system prices fell 4.2% in Q3 compared to the previous quarter, reaching a new low of $3 per watt.
California continues to lead, with 455 MW installed in Q3.
As of 2012, the US solar industry employs over 119,000 people, with the majority in California (43,000), Arizona and New Jersey. In Texas, there are now more solar workers than ranchers.
The average pay for solar installation jobs, at about $38,000 a year, beats the national job average, which is $34,750, according to the Bureau of Labor Statistics.
How many solar jobs are in your state? Use this map by the Solar Foundation to find out. It also shows your state's rank and quick details on key policies, such as net metering and Renewable Portfolio Standard targets:
Website:
[sorry this link is no longer available]
(Visited 7,353 times, 4 visits today)