Although Walmart makes regular announcements about its progress toward sustainability, greenhouse gas emissions are growing, not declining.
In fact, since Walmart launched its greenhouse reduction effort in 2005, self-reported emissions are up 14%, making it one of the biggest and fastest growing climate polluters in the country, says "Walmart's Assault on the Climate," a report released by the Institute for Local Self-Reliance.
On the Greenhouse Gas 100 list, Walmart comes in a #33, a hair below Chevron and beating out Shell Oil.
That's because Walmart picks and chooses what it measures as it calculates emissions – major sources of pollution from building new stores to product manufacturing and international shipping of products are, well … left out.
As much as the company touts its increasing use of renewable energy, that pales against what really drives the company – selling mountains of very short-lived products, which are shipped long distances to an endless number of land-consuming enormous stores in places that require driving to get to.
Over the next two years, another 516 stores (41 million square feet) are planned for the US. Walmart is the biggest importer in the US, bringing in 720,000 cargo containers last year alone. Over the past decade, its imports expanded by 247%, the report says.
"Rather than allocate resources to reduce emissions, Walmart has launched a publicity campaign that boasts of solar installations while green-washing the true environmental costs of its business model," says Stacy Mitchell, a senior researcher at the ILSR and author of the report.
Walmart's goal is to use renewable energy for 100% of operations – so far, it powers barely 4%.
Solar on a Walmart store rooftop: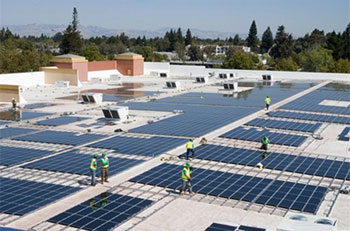 But that's only counting its on-site energy, where Walmart does lead US corporations. If you include the energy it buys from the grid, about 21% comes from renewables. By 2020, Walmart plans to have 1000 on-site solar systems, up from about 200 now.
The environmental community is asking Walmart to commit to cutting emissions 20% by 2020 and to do so in a publicly verifiable way.
They also want Walmart to stop channeling campaign donations to climate-denying politicians who have voted to retain oil subsidies and to prevent EPA from regulating emissions.
Still, Walmart is making progress on selling more sustainable products and on green construction practices such as green roofs.
Read the report, Walmart's Assault on the Climate: The Truth Behind One of the Biggest Climate Polluters and Slickest Greenwashers in America:
Website:
[sorry this link is no longer available]
(Visited 7,560 times, 9 visits today)