Continuing on their commitment to power all data centers with 100% renewable energy, Google and Facebook announced new investments toward that end.
Google announced it will invest $80 million in debt and equity to acquire six utility-scale solar plants – five in California and one in Arizona. With a combined 106 megawatts (MW) of capacity, they are investing with private equity firm KKR. Recurrent Energy, owned by Sharp Solar, is developing the projects, which will all be online by early next year.

The 17.5 MW Victor Phelan project in San Bernardino, California (pictured) is one of the six projects acquired by Google and KKR.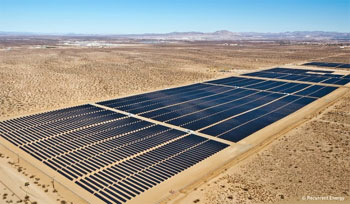 That's in addition to two investments Google announced last month. Google invested $103 million in Mount Signal Solar, a 265.7 MW solar PV plant in Imperial County, California that comes online next year. It also purchased all the output of a 240 MW Texas wind farm.
And Facebook announced its new data center in Iowa will run entirely on wind from a 138 MW plant under construction by MidAmerican Energy. Its decision to site the data center in Iowa was based on the availability of renewable energy.
Besides fulfilling their ideological commitment to renewable energy, they are locking in lower, stable energy costs – the biggest expense in running data centers.
"Utilities are now much more interested in collaborating with us, and I think we are at the beginning of a period in which we could see a very rapid change in the energy mix utilities are providing in just a few short years," notes Bill Weihl, Manager of Energy Efficiency and Sustainability for Facebook.
Offering renewable energy is also helping in the very competitive cloud server market. "Our customers simply expect green energy," Melissa Gray, Sustainability Director for Rackspace said at yesterday's "Greening the Internet" forum hosted by Greenpeace.
(Visited 7,229 times, 7 visits today)