Walmart and Oregon's Portland State University are working together on research to advance the use of green roofs.
Over the next two years, researchers from the University's Green Building Research Lab will collect data from the largest green roof in Portland, which just happens to be on a Walmart store.
Scores of sensors and a weather station will be deployed on a 40,000 square foot green roof being installed on Walmart's new Hayden Meadows store.
The green roof is being installed in three sections, each designed to test various kinds of green roof design, such as materials and soil depth. The rest of the roof – 52,000 square feet – is a white, cool roof, which will also be monitored to compare how it performs. Sensors will detect surface temperature, water flow and building operations.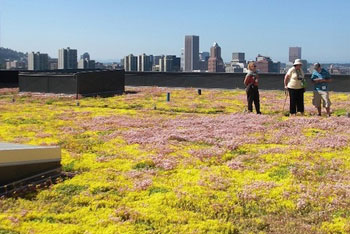 Researchers are also collecting data from Walmart's biggest green roof – a 70,000-square-foot "EcoGarden" in Chicago. Comparing the two will result in a comprehensive view of green roof performance in various climate conditions.
"The data we collect will help the green building industry improve upon the many benefits provided by green roofs – from reducing heat island effects to improving overall building performance," says David Sailor, director of Portland State's Green Building Research Lab. "This research project will lead to better green roof design for buildings around the world."
Research is being conducted with partners, such as the City of Portland's Bureau of Environmental Services, which will measure stormwater runoff; consulting firm Cadmus Group will monitor the performance of rooftop air conditioning units; and the Audubon Society of Portland will conduct bird count surveys to contribute to the habitat monitoring aspect of the study.
Portland, Oregon's Ecoroof Incentive Program, launched in 2008, funds up to $5 per square foot for green roofs on businesses and residences.
The Green Roof business is growing rapidly, expected to reach a $7 billion market by 2017, according to Lux Research. Green roofs have many benefits – they provide thermal and acoustic insulation, remove airborne pollutants, help manage stormwater, absorb carbon dioxide and provide habitat for birds, bees and other beneficial insects.
(Visited 7,955 times, 41 visits today)