Maryland is implementing a really impressive law – the first in the country to reward people for being stewards of forests.
The Forest Preservation Act of 2013, now in effect, requires the state to stay at or above its current tree canopy of 40%. This will benefit the state in so many ways, such as creating and protecting habitat, improving the water quality of Chesapeake Bay and absorbing greenhouse gas emissions.
Imagine being able to get a tax deduction for converting your lawn into forest and for many other crucial stewardship activities – planting trees, creating and maintaining forested stream buffers, controlling invasive species, and other best management practices.
Citizens with as little as 3 acres of land and up to 1000 acres can deduct these forestry expenses from their taxes.
Local governments get help maintaining forests through a statewide forest resource inventory conducted at least every five years. State foresters will help both private and public landowners improve their management of forests.
"Climate disruption is real," says Governor O'Malley. "If we want to stabilize climate, safeguard human health and protect the future of our planet we must act today to ensure our forests are healthy and abundant for the generations of tomorrow."
The new law will enhance forestland and the urban tree canopy, improving air and water quality, flood control, moderating climate, adding to Maryland's natural areas and its beauty, while also increasing property values.
Under Governor O'Malley's leadership, Maryland has become a national leader in forest conservation. Over the past four years, citizens have planted more than 100,000 trees through his Marylanders Plant Trees program, and inmates have planted more than a million trees on public lands through the Forest Brigade. More than 200,000 acres of Maryland State forest have received dual sustainable forestry certification.
Part of Maryland's Climate Plan
The legislation is part of Maryland's stellar Greenhouse Gas Reduction Plan released this summer. It also includes targets to create a zero-waste state through expanded recycling and composting (preventing food waste from converting into methane in landfills), double transit ridership by 2020, and increases the renewable energy used in the state.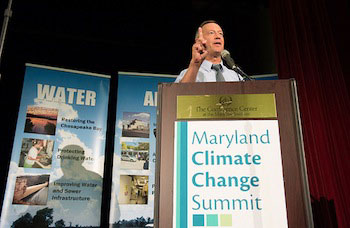 Maryland's goal is to cut greenhouse gas emissions 25% by 2020 (from 2006 levels). The Plan raises the state's Renewable Portfolio Standard to 25% by 2020 (from 18%).
It also sets a goal of cutting electricity demand 15% by 2015 through the state's EmPOWER program.
And it does something few states do – it connects the dots between recycling and climate change. While recycling levels have plateaued across much of the US, Maryland raised the target to 60% (current levels of recycling are an impressive 45%).
In all, more than 150 programs are included in Maryland's Greenhouse Gas Reduction plan, including The Maryland Offshore Wind Energy Act of 2013, passed earlier this year – the first state to pass legislation that subsidizes offshore wind.
The state participates in the Northeast cap-and-trade program (RGGI) and is one of 8 states that just signed a pact to get more electric cars on the road. It also ranks among the top states for installed solar.

Here is Maryland's Greenhouse Gas Reduction Plan:
Website:
[sorry this link is no longer available]
(Visited 5,208 times, 3 visits today)