Female leaders from more than 50 countries will meet September 20-23 in NYC to craft the Women's Climate Action Agenda. It will be streamed online so that many more can participate.
"We are bringing women leaders together at this crucial time in history because we know that women are uniquely positioned to implement the critical sustainability solutions needed to address the world's pressing climate challenges," says Osprey Orielle Lake, co-founder of the Summit. "Nature will not wait while politicians debate. Women around the world are facing the impacts of a changing climate every day, and we are coming together to say "enough is enough" and it is time for action that addresses the roots of this crisis and fosters just solutions."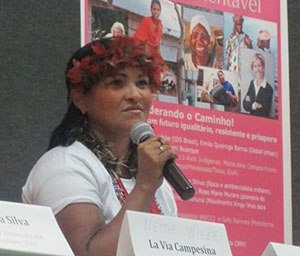 Participants at the first International Women's Earth and Climate Summit include Christiana Figueres, Executive Secretary to the UNFCCC; Marina Silva, former Brazilian Minister of Environment; Mary Robinson, former President of Ireland; Nobel Peace Prize Laureate Jody Williams; Dr. Sylvia Earle, marine biologist; May Boeve, 350.org Executive Director; Dr. Vandana Shiva and leaders from Global Gender Climate Alliance, UN Women, Women's Environment and Development Organization (WEDO), 1 Million Women, the National Association for the Advancement of Colored People (NAACP), and many businesswomen, scientists, government officials, indigenous leaders, activists, teachers and organizers.
The meeting takes place as the Intergovernmental Panel on Climate Change (IPCC) prepares to release its much anticipated update on the state of climate change research.
"Actions to date are simply not equivalent to the escalating urgency of the climate crisis. We are headed toward a 4 degrees C (7.2 degrees F) rise in global temperature over the next decades that will create unprecedented havoc for our children, grandchildren and future generations. Women are no longer willing to stand by when so much is at stake," says Summit co-founder Sally Ranney. "We know what needs to be done, and mobilized women have the power to do it and to build a much stronger climate action movement. We are gathering in force in order to get climate solutions in place at the speed and scale necessary to make a significant difference."
Majuro Declaration
In related news, last week, leaders from Pacific island countries – the most vulnerable to the effects of climate change – adopted the Majuro Declaration, which "launches a new wave of climate leadership," marking their efforts to accelerate action.
Besides small island countries, Australia and New Zealand signed the Declaration, which calls on countries across the world to commit to specific, concrete pledges that will rapidly cut emissions.
"Here in the Pacific, droughts, floods, cyclones and rising seas are destroying our homes and jeopardizing our future," they say.
The Declaration:
Recognizes the gross insufficiency of current efforts to tackle climate change, and the responsibility of all to act urgently to reduce and phase-down greenhouse gas pollution;
Confirms the Pacific Islands Forum's climate leadership in the form of their ambitious commitments to reduce emissions and the significant benefit in transitioning to renewable, clean and sustainable energy, and their desire to do more with the cooperation and support of international partners; and
Calls on other countries, cities, the private sector, and civil society to commit to be Climate Leaders by listing specific commitments that contribute more than previous efforts to the urgent reduction and phase-down of greenhouse gas pollution.
They will now attempt to get the EU, US, China and other countries to sign the pledge which will presented to the UN at the General Assembly later this month in NYC.
Quest for Tar Sands Continues
Meanwhile, Canada continues its relentless quest to get President Obama to approve the Keystone tar sands pipeline. Before this latest meeting in Washington, Prime Minister Stephen Harper sent a letter to Obama offering to reduce greenhouse gas emissions if only Obama will say Yes.
The letter proposes "joint action to reduce greenhouse gas emissions in the oil and gas sector" and that Canada would be "willing to accept targets proposed by the US for reducing the climate-changing emissions."
At the same time, billionaire Tom Steyer has launched a $1-million ad campaign that will air across the US opposing the pipeline: "Bringing Down TransCanada's House of Cards: The Keystone Chronicles."
The first ad, which appeared during Sunday's political talk shows, points to the fact that the pipeline is for export to countries like China. Here's the truth: Keystone oil will travel through America not to America."
350.org has organized another national protest of the pipeline for September 21. "Draw the Line" has over 150 events registered in 45 states. In Nebraska, construction will begin on a solar and wind-powered barn directly on the pipeline's route. In NYC, a line will literally be drawn marking the areas of Manhattan that will be under water from sea level rise.
And as the House comes back to DC. they've promised to fight federal regulations for natural gas fracking. In a memo to Republican lawmakers, House Majority Leader Eric Cantor (R-VA) says they will take up a bill that forces the Deparment of Interior to cede regulation to states that have already developed their own rules, reports The Hill.
The beat goes on!
Learn about the Women's conference here:
Website:
[sorry this link is no longer available]
(Visited 8,241 times, 3 visits today)