Volkswagen, Siemens, Panasonic lead their industries on this year's Dow Jones Sustainability Index, which since 1999, has been tracking companies worldwide.
Each year, research firm RobecoSAM asks 2500 of the world's largest public companies to report on their sustainability performance – covering governance, social and environmental criteria. The analysis, which focuses on long-term shareholder value, results in "best of class" leaders – companies that lead their respective industries.
Some 2013 Industry Leaders:
Volkswagen: Automobiles & Components
Australia & New Zealand Banking Group: Banks
Siemens: Capital Goods
Panasonic: Consumer Durables
Citigroup: Diversified Financial Services
Henkel: Household & Personal Products
Air France-KLM: Transportation
EDP – Energias de Portugal: Utilities
Volkswagen's new eUp! electric car: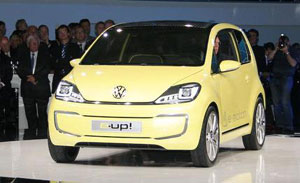 Among the 39 companies added to the list this year are United Parcel Service (UPS) and a questionable one from our point of view – Bank of America, which still finances coal.

Among the 47 companies deleted for poor performance (compared to their peers) are Johnson & Johnson, HSBC and Bayer (currently fighting bans on pesticides that are killing bees and one of the biggest air polluters in the US.
Among the many factors analyzed are: climate strategy;
stakeholder engagement; product stewardship; operational eco-efficiency and financial stability.
The indices were the first in the world to provide investors with a benchmark to help them back sustainability leaders.
Here are the full results for 2013:
Website:
[sorry this link is no longer available]
(Visited 5,964 times, 11 visits today)