New research shows that simply re-routing flights away from sensitive ozone areas could greatly reduce airlines' impact on the environment.
"There have been many studies of the total impact of civil aviation emissions on the atmosphere, but there is very little knowledge of how individual flights change the environment," says Steven Barrett, a lead author of report published by the Massachusetts Institute of Technology (MIT) in the journal, Environmental Research Letters.
"The places that the sensitivities are highest now are the fastest growing regions in terms of civil aviation growth, so there could potentially be ways to achieve significant reductions in the climate impact of aviation by focusing on re-routing aircraft around the particular regions of the world where ozone formation is highly sensitive to NOx emissions," he says.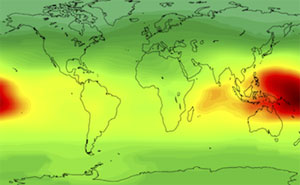 Surprisingly, flight paths across the Pacific to New Zealand or Australia show the most climate sensitivity because the air is cleanest there. When the air isn't polluted, it's most sensitive to emissions, researchers find, resulting in a larger response from the atmosphere.
On those routes, researchers estimate that for every 2.2 pounds of aircraft emissions, an extra 33 pounds of tropospheric ozone is emitted. This gas, created by nitrogen oxides released from burning jet fuel, reacts with carbon monoxide and other atmospheric chemicals in the sunlight.
In fact, their analysis of 83,000 flights concludes that the 10 highest ozone-producing flights originate in, or are destined for New Zealand or Australia.
A flight from Sydney to Bombay produces the most ozone, almost 55,800 pounds. The sensitivity in this area is about 5 times higher than in Europe and 3.7 times higher than North America.
Last year, researchers from Stanford published similar research showing that planes should avoid flying over the Arctic, which is causing polar ice to melt faster.
Ozone is a potent greenhouse gas with short-term climate change effects (known as climate forcers). Its production – and destruction – depends very heavily on localized chemical reactions, which is why its impact is very specific to regions.
Researchers also find that flights during October cause 40% more ozone emissions than in April.
As we've written about many times – If climate forcers are eliminated quickly (HFCs, black carbon, methane, ground-level ozone), the rate of global warming would be cut IN HALF, keeping global temperature rise under the dreaded 2°C through the end of the century – and it would slow Arctic ice melt by two-thirds.
Choice of Airline Really Matters
While most airlines are attempting to improve fuel efficiency, there's still a big difference among them in how far they've come, according to research by the International Council on Clean Transportation.
Depending on the route, the difference between the most-efficient and least-efficient carriers is huge – 9% to 87%.
Alaska Airlines – one of the first airlines to use biofuels on commercial flights – ranks as the most fuel-efficient while Allegiant comes in last among 15 US carriers.
US Airlines are ranked in this order:
Alaska, Spirit, Hawaiian, Continental (now United), Southwest, Frontier and JetBlue all scored better than the industry average. United scored at the industry average and Virgin America, Sun Country, Delta, US Airways, AirTran, American and Allegiant all came in below it.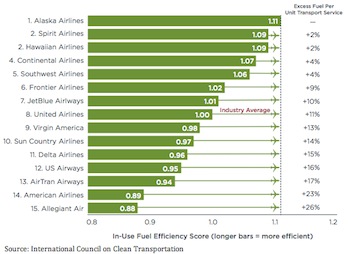 Most recent data is from 2010, so it doesn't reflect American's purchase of hundreds of fuel-efficient aircraft.

It's interesting that Virgin ranks low on efficiency considering how many industry-leading announcements they've made from serving sustainably-sourced food to running on fuel made from recycled industrial gases.
About a third of airline efficiency is related to aircraft technology and the age of airplanes. Other factors are seating density, the percent of a plane occupied and operations on the ground.
One of the innovations that makes taxiing more energy efficient: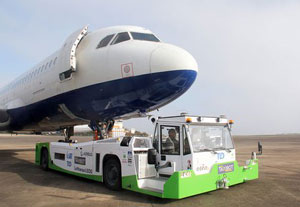 Airlines generally also rank low on recycling all the waste they create.
Commercial aviation contributes about 3% of global carbon emissions (and that doesn't count the ozone emissions we reported above) and it produces lots of black carbon, another major climate forcer.
And the industry has one of the fastest growing emissions profiles in the transportation sector, with traffic expected to double by 2020. Emissions have doubled in the past over the past two decades and the European Commission predicts they will rise 300-700% by 2050 from international flights.
That's why the European Union (EU) has been trying hard to include the industry in its carbon trading program, but it has faced strong resistance from the US (which actually passed legislation against it) and China.
Under EU's cap-and-trade program, airlines would pay fees for the carbon they emit for any flight that originates or ends in Europe. European airlines already participate.
Now, the EU proposes a watered-down version. The fee would apply only to flights within its airspace in exchange for brokering a global policy, which the industry has long said it wants.
This month, the International Civil Aviation Organization will meet again to develop that strategy. The industry has pledged to be carbon-neutral by 2020.
Because of all this pressure and the ever-increasing cost for fuel, there is a lot of innovation coming to the airline industry. At this summer's Air Paris Show, vendors showed off products as simple as moving along runways more efficiently to completely electric airplanes. There's also lots of activity on biofuels.
Download the report on US aviation emissions:
(Visited 6,423 times, 8 visits today)