Two venture capital firms have raised big funds recently, Sequoia Capital and Silver Lake Kraftwerk, and Ambiq Micro and Joule concluded significant capital raises.
Sequoia Capital
One of the largest venture capital firms in the world, Sequoia has raised another $1 billion in capital for funds in the US, Israel and China.
A $474.5 million fund will invest in US companies (its 14th fund), $215.5 million for Israeli companies (its 5th fund) and $349.5 million in China (4th fund).
Despite a lull in venture capital fundraising, Sequoia stands out as one of a select few that's able to raise these large amounts.
Cleantech is one of many industries the firm invests in. Portfolio companies include solar leasing company, Sunrun; smart grid software developer, eMeter; SynapSense Corp., which is focused on energy efficient data centers; and Oorja Protonics in fuel cells. Sequoia invested in lithium battery maker A123 Systems, which filed for bankruptcy last year.
Silver Lake Kraftwerk
Silver Lake raised $653.5 million for its Kraftwerk Cleantech Fund, more than doubling its size since this time last year.
When billionaire George Soros and others formed Silver Lake in 2011, the goal was to raise $1.25 billion for cleantech, but that was during the hard times for our industry. Lately, things have been looking up again.
The fund invests across cleantech in efficiency, renewables, waste and emissions, among the areas. Examples of investments are in SolarCity and China's Nobao Renewable Energy (geothermal heat pumps for commercial buildings).
It's one of about a dozen notable venture capital firms that signed onto responsible investment guidelines that govern portfolio choices. They guide VCs to investing in companies with strong environmental, health, safety, labor, governance and social stances.
Ambiq Micro
Austin-based Ambiq Micro has raised $10 million in a Series B round to pursue its extremely energy efficient semiconductors.
Its ultra "low-power" chips allow semiconductors to operate at very low power levels, greatly extending battery life in portable products, medical devices and other battery-driven products.
Joule Unlimited
Bedford, Mass-based Joule, which is turning sunlight into fuel, has raised another $50 million, bringing its total to more than $160 million. Flagship Ventures is its lead investor.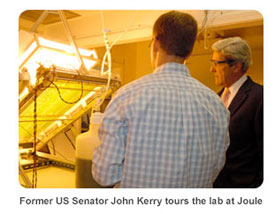 Joule's patented technology converts sunlight and waste carbon dioxide directly into liquid hydrocarbons. Unlike biofuel processes that require intermediates such as sugar, algal or agricultural biomass, Joule says it can make liquid hydrocarbons that replace conventional diesel without raw materials through a single-step, continuous process.
It is now moving from late stage development to global production of renewable fuels and chemicals, says Joule. Next year, Joule plans to build its first commercial factories, with its first product launch in early 2015.
In 2010, the US Department of Energy announced it would invest $122 million over five years in an Energy Innovation Hub that develops revolutionary methods to generate fuels directly from sunlight.
Here's a video on Joule's process:
(Visited 6,804 times, 5 visits today)