Started just five years ago, Clean Power Finance Inc. has quickly risen to become a key player in financing residential solar through its online business-to-business marketplace.
It connects solar installers with access to financing and software that helps them close more deals faster.
The company, which is backed by top investors such as Kleiner Perkins and Google, raised $500 million which solar installers use to finance residential solar leases, competing with SolarCity and other companies.
Its software, CPF Tools, allows installers automate the entire solar sales process – from proposal to system design to financing.
Here's the story behind the company.
by Seth Masia
A couple of years ago it was tough to talk a bank into lending on a new solar rooftop array. It's no easier today, but a company from Silicon Valley has achieved rapid growth by matching installers with eager financiers.
Clean Power Finance (CFP) was launched in 2007 by Gary Kremen, founder of Match.com.
In the beginning it was largely a software play. The company introduced its CPFTools software suite early in 2008, initially branded as dealer-support enterprise software for solar firm Conergy.
For an installer/ dealer, the software automated quotation and system specification tasks, and linked them to financing sourcing.
It was widely adopted by hundreds of installers/ dealers and became a platform upon which Clean Power Finance has created a direct-investment financing fund for residential solar projects, including straight loans, leasing and power purchase agreement (PPA) options.
In 2011, the venture capital giant Kleiner Perkins put $25 million into the financing fund, and Google added $75 million. As part of the deal, Kleiner Perkins asked Nat Kreamer to take over management of Clean Power Finance.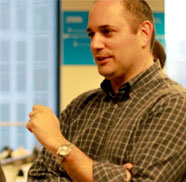 Kreamer became the man for the job via the US Army, the US Navy and business school. His family has lived on the shores of the Chesapeake Bay since the 17th century, and he grew up conscious of water-quality issues and the delicate shoreline environment. He admired the personnel at the region's many military bases.
As an undergrad at Northwestern University, Kreamer worked for a software company, selling a package of tools for government contractors. He also worked for an investment bank, learning about merchant power, fossil fuels and emissions credit trading. After graduating in 1999, he volunteered for the Army, and went through Officers Candidate School.
"When I found out I wasn't going to get to do what wanted to do in the Army, I transferred to the Navy," Kreamer says. The Navy made him a Special Forces intelligence officer, attached to a field team in Afghanistan. He came home with a Bronze star, joined the Reserves and headed for the MBA program at Rice.
The Navy activated him for another tour in Afghanistan, delaying Kreamer's graduation from Rise until 2004. He then went to work for PricewaterhouseCoopers as a financial consultant to very large energy companies.
He was also close to the Governor's Energy Office in California, where Arnold Schwarzenegger was concerned that private utility companies weren't prepared for future growth and might lead the state into another energy crisis. Kreamer began thinking about ways to make non-fossil energy affordable on a large scale. "You need power on a sunny afternoon," he said. "but what kind of power source can you build quickly?"
During another tour of Afghanistan in 2005-2006, he hit on a solution: leased rooftop solar, with electricity sold to the rooftop owner. A high school friend, Ed Fenster, was then attending business school at Stanford. On Kreamer's return, in January 2007, he and Fenster partnered with Stanford student Lynn Jurich to found Sunrun.
"The timing was perfect," Kreamer said. "It coincided with the California Solar Initiative." The first lease went to a physician in Redwood City, California. By the close of 2008, Sunrun had raised $12 million in venture capital.
In March 2009, Kreamer saw another opportunity. He joined Acro Energy, a Sunrun customer, as CEO. Acro was a Houston-based solar installer determined to grow by acquiring other solar installer companies, especially in the lucrative California market. Today, Acro has locations in Pomona, Modesto and San Diego.
Over the next two years he learned all about the issues for installers: permitting hassles, financing roadblocks, running warehouses and crews. "There were thousands of installers, but only four financing companies," he noted.
In 2009, Kleiner Perkins saw the opportunity to turn CPFTools into a finance-to-installer market-making tool, analogous to a mortgage broker package like those created by Ellie Mae and Calyx. They drafted Kreamer to be CEO.
Today, Clean Power Finance's direct investment market is available in California, Colorado, Hawaii, Massachusetts and New Jersey, with New York, Connecticut and Maryland about to launch, and Arizona on deck. The financing side has investments from Google, Kleiner Perkins, Morgan Stanley and two large firms that prefer not to be named. The online marketplace means low transaction costs for everyone, and because it's a low-risk investment, the CPF market now automatically underwrites installations.
"Residential solar is absolutely the best long-term investment for any institutional investor," Kreamer said.
While the solar business in the US grew by 70% last year, CPF and its customers grew by 325%. Kreamer believes the company's business model is unique, and that this enables nearly unlimited growth.
"We'lll do more financing with larger, more sophisticated investment firms and more diversity in product," he promised. "We can accommodate client companies with lots of different business models: manufacturers and distributors as well as integrators, developers and installers.
The market platform can apply to other distributed energy assets: We could do solar thermal, energy storage and home management. We can partner with utilities. Using our market, a utility could own storage or PV on rooftops. And we can expand internationally."
++++
Seth Masia is an editor of Solar Today and Director of Communications for the American Solar Energy Society.
This article first appeared in Solar Today, March 2013 issue.
(Visited 9,019 times, 54 visits today)