Japanese internet and telecommunications giant Softbank Group is one of the country's most significant investors in solar and wind energy projects there. Now it is backing a fuel cell technology venture in a 50/50 partnership with Bloom Energy Corp.
The two are each initially contributing $10 million to create Bloom Energy Japan Ltd., which will market Bloom's fuel cell technology in Japan. It is Bloom's first foray into a market outside the United States.
Softbank owns Sprint and is the third largest cell phone company in Japan.
Bloom is in the big leagues, having raised more than $1 billion in venture capital, way more than any fuel cell company to date. In Japan, it will compete with the likes of Fuji Electric, GS Caltex, JX Nippon, Panasonic, POSCO Energy and Toshiba Fuel Power Systems.
Besides becoming an "energy player" in Japan by investing further in renewable energy, Softbank is getting into fuel cells because they offer baseload power that doesn't depend on the grid. Like many major companies there, Softbank has been affected by numerous electrical blackouts since the Fukushima meltdown. CEO Masayoshi Son sees Bloom's technology as a way of helping distribute the risk of future outages and create more reliable sources of power across the country.
"When you have centralized infrastructure, and a major event like a tsunami happens and the infrastructure happens to be hit, it affects the whole region, the whole country," Bloom CEO KR Sridhar told The New York Times. "But when you distribute the power, you distribute the risk, too. And electricity becomes personal."
A 200 kilowatt Bloom unit will provide back-up energy at one of Softbank's buildings in Japan.
The "boxes" in the photo below are Bloom's fuel cells: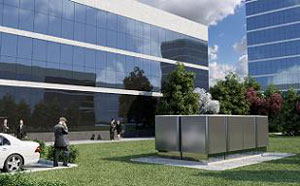 Electricity prices are also rising because utilities have to import fuels to compensate for nuclear reactors that shut down.
Fuel cell systems are still expensive, however. Therefore, Bloom Energy Japan will operate under Bloom's service model, where it owns and operates the systems for customers and sells them the electricity under 20-year, fixed-rate contracts with no upfront cost (analogous to solar leasing).
While just 21,000 fuel cell units sold in 2012, research firm Navigant expects 350,000 units to sell each year by 2022. They predict the world market will grow from $1.7 billion this year to $9 billion in 2022 for stationary fuel cells (those that run buildings as opposed to transport). Japan and South Korea are particularly healthy markets, they say. South Korea is building a 59 megawatt (MW) fuel cell park that sends energy to the grid.
Softbank's energy division, SB Energy, is building a 111 MW solar plant, the largest in Japan, which comes online next year. It has plans for 500 MW of solar and a mammoth 1 gigawatt wind farm.
Apple and eBay, which have the biggest fuel cell installations in the US, use Bloom's units. AT&T is Bloom's biggest customer for its "energy-as-a-service" model. Coca-Cola, FedEx, Google, Staples and Walmart are among other major corporations that use Bloom fuel cells to reduce their dependence on power from the grid. NASA's new Sustainability Base also relies on them.
It's pretty amazing how well Bloom Energy is doing, becoming a leader in what's been a tough market to get off the ground. It's been years and years of expecting fuel cells to take off
(Visited 9,539 times, 39 visits today)