Yet another green initiative by NYC's Mayor Bloomberg is the city's new cleantech incubator, the Clean Technology Entrepreneur Center (NYC CTEC).
With the purpose of further diversifying NYC's economy, it will support startups focused on solving urban challenges of sustainability, energy and resilience.
Based in Brooklyn's emerging Brooklyn Tech Triangle, the center opens this fall in a 10,000 square foot space. When fully operational, it will host up to 20 startups focused on energy efficiency, resilience, climate adaptation and other technologies relevant to sustainability in urban areas.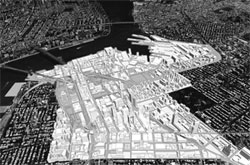 The New York City Economic Development Corporation (NYCEDC) is providing substantial seed funds of $750,000 over two years, and will jointly operate the incubator with New York University's Polytechnic Institute.

"While clean technology has historically been dominated by capital-intensive, manufacturing-led segments, technology and market trends are creating a new segment of the market. "Green 2.0" represents digitally-enabled products and services that use information, data and technology to address environmental, energy and resource constraints. Leveraging the City's leadership in software, finance, analytics and media, the Center will support the growth of next-generation clean technology businesses, helping make New York City a leader within this fast-growing segment," says NYCEDC.
"We think there is a lot of opportunity for wealth creation and job creation at the intersection of energy, building infrastructures, software and data analytics," Micah Kotch, director of innovation and entrepreneurship for NYU-Poly, told the Daily News.
The incubator is part of "Green NYC 2025," NYCEDC's initiative to identify opportunities in green technologies, as well as the challenges the city faces for future growth.
The Center will incorporate and expand on existing programs that support innovation, such as the new PowerBridgeNY Proof of Concept Center and the New York City Accelerator for a Clean and Resilient Economy (NYC ACRE).
NYC now has 14 business incubators either currently operating or forthcoming. Over 600 startup businesses and 1,000 employees are located at city-sponsored incubators, raising a total of $100 million in venture funding.
(Visited 11,680 times, 25 visits today)