If Los Angeles can do it, any city can – get out of their cars and onto bikes and trains.
No other city is so closely associated with the car – when people think of LA, the first thing that pops into their mind is often the network of endless highways … and the traffic congestion.
But the city looks poised to shed that image as it greatly expands bike lanes (doubled to 292 miles) and light rail (26% increase in the past eight years), with another 18 miles planned by 2015. Car-sharing is also popular with Zipcar's presence there.
Streetcars could even return in the future. A local entrepreneur supported by the city is manufacturing them there.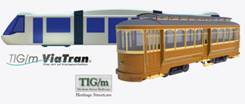 For the first time, people are buying fewer cars and using multi-modal transportation instead. Last year, 28,000 fewer cars were registered, according to the motor vehicles department, reports Bloomberg. Meanwhile, use of buses and trains rose 4.7% to 41.3 million.
"The next 10 years will be as important to the auto industry and transportation literally as the invention of the Model T," says Scott Griffith, former CEO of Zipcar at the Bloomberg Link Next Big Thing Summit this week. "We're now on the edge of all these new business models coming along and the intersection of information and the car and transportation. If you look out 10 years, I think we're going to see a huge change, particularly in cities."
Outgoing Mayor Antonio Villaraigosa has made mass transit a priority and was able to raise sales taxes to pay for these projects. While 20% of the revenue is devoted to highways, 35% is earmarked for rapid-transit bus and rail, reports Bloomberg.
Incoming mayor and former city council member, Eric Garcetti, says he will continue this focus. "I will continue expanding rail and will also focus on local connectors that bridge the gaps between people's homes and main lines," he told Bloomberg. "There is no silver bullet to addressing traffic. We must pursue a comprehensive approach."
The city is about to launch a bike-share program with 4,000 cycles, and has been adding bike lanes in advance as part of the transition from a car-only culture.
No one expects LA to become NYC, it's far too spread out for that. But as transit grows, so do neighborhoods around it and that brings businesses and more density, creating a virtuous cycle for walking, biking and mass transit.
Mayor Villaraigosa has been a cleantech leader. His accomplishments include weaning the city off coal-fired power plants; strongly promoting electric cars; approving the first solar feed-in tariff for a major city; switching all street lights to LEDs; and establishing a cleantech corridor. Recently, he added cool roofs to the city's building code.
Since 2005, when he took office, renewable energy has grown from 3% to 20% in Los Angeles.
(Visited 16,545 times, 2 visits today)