Energy efficiency upgrades to NYC's Empire State Building have been so successful they are seen as a model for building retrofits that's being rolled out across the US.
For the second consecutive year, the building exceeded its "guaranteed energy savings." In 2011, the Empire State Building beat its year-one energy-efficiency guarantee by 5%, saving $2.4 million, and in year two, it beat it by almost 4%.
The core building retrofit is completed except for the build-out of high performance space for new tenants. Once that's finished, $4.4 million is expected to be saved each year, about a 38% cut in energy consumption.
The Empire State Building upgrade focused on eight key areas: refurbishing all 6514 windows; installing insulation behind all radiators; a chiller plant retrofit; new building management systems controls; new revenue-grade meters serving the entire building; and a web-based tenant energy management system. They also upgraded to all LED lighting and all 68 elevators are 30% more efficient and able to send excess energy back to the building's grid.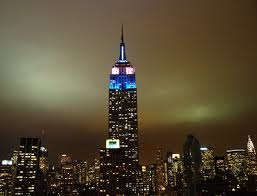 In total, the retrofit will cost $550 million. Johnson Controls guaranteed the energy savings through a $20 million performance contract – the retrofit is paid through the energy saved over the life of the contract. If the savings aren't realized, Johnson Controls pays the difference.
The retrofit has attracted new Empire State Building tenants over the past two years, including LinkedIn, Skanska, LF USA, Coty Inc., the Federal Deposit Insurance Corp., and Shutterstock. These tenants sought space that reflected their sustainability values, provided more comfort for employees, and allowed them to monitor and control their energy use.
And Malkin, who manages the building for investors, is entertaining two unsolicited acquisition bids, which would put the building and 17 others into a publicly traded REIT. The Empire State Realty Trust Inc would trade under the ticker "ESB" on the NY Stock Exchange, reports Reuters.
In 2009, the building was retrofitted under the Clinton Climate Initiative Cities program and the C40 Cities Climate Leadership Group, the climate initiative among US cities that NYC Mayor Bloomberg chairs.
They assembled a coalition of leading organizations focused on energy efficiency and sustainability to develop the program: the Empire State Building, Johnson Controls, Jones Lang LaSalle, and Rocky Mountain Institute.
Johnson Controls and Jones Lang LaSalle developed a measurement process that verifies the energy used and saved. It includes energy model calibration; updating assumptions regarding weather, tenancy and operational improvements; and actual performance improvements attributable to each project.
The 2.85 million-square-foot Empire State Building is both LEED-Gold Certified for Existing Buildings and Energy Star Certified. It even trumps some of the city's new LEED-certified buildings on energy efficiency.
Rolling It Out Nationally
Now, Johnson Controls and Jones Lang LaSalle are rolling out the program across the US. They jointly implemented the program at all 13 properties in Malkin Holdings NYC-area commercial portfolio and One Worldwide Plaza in New York.
Separately, they have replicated the model at 70 commercial buildings, including The Port Authority of New York and New Jersey, The Port of San Francisco's historic property at Pier 1, the corporate headquarters of Prologis Inc., the Moscone Center in San Francisco and Chicago Union Station.
Rocky Mountain Institute is leveraging the work in its collaboration with two large building portfolio owners, AT&T and the Exchange, the Department of Defense's oldest and largest retailer.
"The success from the Empire State Building retrofit project further demonstrates that thoughtfully applied energy-efficiency investments can deliver unparalleled returns through a combination of lower energy, lower operating costs, and increased building valuation," says Iain Campbell, vice president, Global Energy and WorkPlace Solutions for Johnson Controls Building Efficiency. "When implemented under a performance contract, the energy savings are guaranteed, ensuring a no-risk investment and a smart business decision."
40% of the energy consumed in the US is in buildings and that rises to 75% in dense, urban areas like NYC. If every commercial building in New York City followed this blueprint, carbon emissions would be cut by 4 million tons – the same output of a typical coal-fired power plant.
"While the Empire State Building retrofit savings are impressive, its impact if extrapolated over the U.S. building stock is astounding," says Rocky Mountain Institute Buildings Principal Victor Olgyay. "Today, more service providers than ever are optimizing the deep retrofit process and achieving significant energy savings in a single building. What's needed is progress on scaling the solution by enabling large portfolio building owners to pursue energy savings across multiple buildings through a deliberate and well-timed portfolio-wide strategy."
All the data and nd monitoring and verification reports are here:
Website:
[sorry this link is no longer available]
(Visited 22,879 times, 16 visits today)