Although some view the progress made in bringing lighting to the 2 billion people who don't have it, a "drop in the bucket," there have been 4 million installations over the past decade.
And that's enough to make it big business and so far, it's being left in the hands of small business, says Lux Research.
"Most national utilities throughout the developing world are both uninterested in and incapable of expanding electricity service to the off-grid population," says Steve Minnihan, Senior Analyst for Lux and lead author of the report, "Lighting the Developing World: Business Model Innovation in the Face of Unique Risks in Rural Lighting and Electrification."
The same is true for multinationals, leaving the field open to a growing number of innovative start-ups. Many are using pay-as-you-go models that sell electricity directly to end users and this is resonating strongly with eager customers, he says.
Young companies from both the US and developing countries are selling inexpensive, Chinese-made solar systems that replace the need for wood, kerosene, and diesel generators. And rather than being well-funded, venture-backed firms, they are grassroots-oriented home-grown businesses that sell door-to-door, says Minnihan.
Simpa, for example, is working in India to make solar affordable to people living in rural areas. After making a small down payment for a high quality solar home system, customers pre-pay based on actual energy use through their cell phone. Each small payment contributes to the final purchase price.
Every time a customer makes a payment, the solar system is "unlocked" for the pre-paid amount of energy in kilowatt hours. When this is exhausted, the system is temporarily disabled until another payment is made. When the solar system is fully paid off, the product is permanently unlocked.
The Asian Development Bank is investing $2 million in Simpa, so that it can bring the service to over 60,000 households by 2015.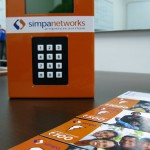 Other interesting approaches for getting solar to these communities are solar loans in Bangladesh, Solar in a Suitcase and a gravity-fueled light.
While multinationals may talk about reaching customers at the "bottom of the pyramid," bigger companies have hesitated to jump into the off-grid solar market because, well, it's hard. "You're walking up to a village. You're walking up mud roads," he told Bloomberg Businessweek. "It's not a sales model that multinationals feel comfortable with."
And utilities aren't incentivized to bring the grid to rural areas. "Due to a combination of poor economics, regulatory red tape, and unsustainable subsidies, utilities throughout the developing world are incapable or unwilling to address the energy needs of the population," the report says.
Pay-as-you-go plans, also used by cellphone companies, "resonates with the customer, it matches their income stream,"he says.
The report, titled "Lighting the Developing World: Business Model Innovation in the Face of Unique Risks in Rural Lighting and Electrification," is part of the Lux Research Grid Storage Intelligence service.
(Visited 5,129 times, 8 visits today)