We wrote about Grameen Shakti back in 2003 and its mission to bring electricity to the poorest of the developing world in the most reliable and sustainable way.

Founded in 1996, Grameen Shakti is an offshoot of Grameen Bank, the pioneering micro-finance institution, which was established in 1976.

By 2002, Grameen Shakti had installed 11,000 PV sytems in homes, schools and businesses in Bangladesh. By the end of this year, it will have 1 million solar systems under its belt, with a goal of 5 million by 2015.

The nonprofit installs 1000 systems a day!
---
by Nancy Wimmer
In one of the poorest countries on the planet a renewable energy service company is installing one thousand solar home systems - a day. Not in its capital or busy urban centers, but where 80 percent of the population lives - in rural Bangladesh. The company, Grameen Shakti, literally translates as rural energy. By the end of the year it will have installed a total of one million solar systems and now has expansion plans to install five million systems by 2015. Shakti is succeeding where business as usual has failed, and in the year of Sustainable Energy for All, it's a success story we should all know by heart.
As in other developing countries, the rural market is incredibly tough to serve and villagers are very poor. So how is Grameen Shakti selling them 'expensive solar'?
Shakti solved part of the problem by tailoring a solar system to exactly what people like the traveling food vendor, Mr. Majid needed: a 25W solar system to light his grocery cart and power his cassette player.

They then coupled tailored solutions with finance providing him with a loan he could afford to repay because he doubled his monthly income by working after dusk and attracting more customers with popular Bangla music.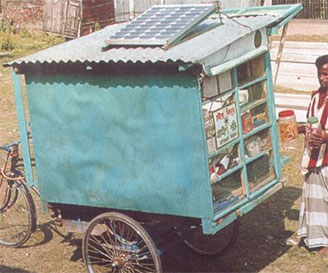 But the problems don't stop here.
Rural customers are hard to reach. In the Bangladesh delta of the mighty Brahmaputra, Ganges and Meghna Rivers it's even tougher. Its villages can become islands in the rainy season, when almost half the country is flooded. Other regions where the land lies lower than the plains turn into huge lakes, forcing villagers to travel by boat seven months of the year. Serving village customers on the delta means traveling bumpy mud paths and crossing rivers - on foot, by bike, boat and by rickshaw. It can take hours during the rainy season to reach a few customers.
Shakti meets this challenge by creating rural supply chains and after sales service. Its engineers and technicians live, work and are trained on the job in the villages. They become part of the community, keep in close contact with their customers and make sure the solar systems are running. If there is a problem, Shakti is onsite to solve it - even in times of disaster.

In the aftermath of Cyclone Sidr, Shakti branch staff members were out doing repairs within hours in areas it took days and weeks for emergency teams to reach. For Shakti, all business is rural. Its field managers run 1,500 branch offices in every district in Bangladesh. They guarantee complete service - from installation, maintenance, repair and financing to customer care and training.

This focus on rural service began when Grameen was founded back in 1996. It sent bright, young engineers into the hinterland to set up its first branches. They won the trust of the villagers, trained local technicians, managed all financing, solar installations and maintenance. This laid the groundwork for Shakti's quality service and steady growth, but it took years to develop.