After most Indian states failed to meet renewable energy targets last year, investments seem to be trending up again.
So far this year, five clean energy deals have signed contracts for about $500 million in investments, reports Economic Times.
The largest is a $150 million investment in local wind developer Greenko Group by an affiliate of Singapore's Investment Corporation. General Electric has also invested in Greenko, which plans to build 1 gigawatt (GW) of wind in India.
Wind comprises most of India's renewable energy, with 18.3 GW out of the 26 GW total installed. Another 15 GW of wind is expected to be added over the next five years.
Solar is also picking up speed in both off-grid and grid-connected applications. Off the grid, there's 125 MW of solar PV, 16.9 megawatts of that added in March. Grid-connected PV came close to "Germany" levels in March, adding 240 MW, according to India's Ministry of New and Renewable Energy.
In all, solar PV nearly doubled over the past year adding 754 MW, for a total of 1.69 GW. There's also 6.98 million square meters of solar hot water collectors.
Here's India's biggest solar project, Gujarat Solar Park, at 214 MW, with plans to expand to 600 MW, built by SunEdison: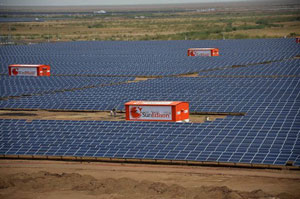 For the first time, India's government will provide grants for 30% of solar plant construction costs to projects that win bids in its auctions. This month, developers will bid to build 750 MW of solar.
India is one of a handful of countries that's been using auctions to drive down the cost of solar energy without subsidies – the lowest bidder gets the right to supply solar electricity.
Chronic blackouts reduce economic growth by 1.2% a year, says the Ministry, one of the reasons the government is stepping up the pace.
India plans to install 1.7 GW of solar by early 2014, and 20 GW by 2022 under its National Solar Mission – 10% of electricity. For renewable energy, the target is 80 GW by 2020.
Unfortunately, India and Bangladesh signed a $1.6 billion joint venture agreement to build a 1.3 GW coal-fired power plant which will come on line within five years. They say it will be the cheapest form of energy after hydropower and will accelerate the countries' growth.
On the green building side, India's Bureau of Energy Efficiency has developed a voluntary Energy Conservation Building Code. It starts by rating office buildings and will likely be extended to homes.
Buildings are rated based on actual energy use – how many kilowatts are consumed per square meter each year. It includes criteria such hours of operation, climatic zone and conditioned space.
(Visited 5,129 times, 4 visits today)