Patagonia, one of the most enduring stand-out leaders on corporate sustainability, is launching a venture capital fund to invest in future leaders.
Starting with $20 million, Patagonia will invest in companies that share its environmental values with a focus on five areas: clothing, food, water, energy, and waste.
Dubbed "$20 Million & Change," the fund will make investments in the $500,000 to $5 million range in early stage companies that have at least $1 million in revenue or capitalization. It will take minority and majority stakes and could also create joint ventures.
Besides raising funds, portfolio companies will get lots of help from Patagonia in sourcing materials, manufacturing, and selling products. They'll help companies get distribution channels going, even using Patagonia's label and selling products through their stores and online venues.
"We've had a great five years – we basically doubled the company, and have cash on the balance sheets. Unlike a lot of other companies that sort of hoard their cash, Yvon and I started talking about what we could do that might serve the causes we care about," Rose Marcario, former COO of Patagonia who will head the fund, told Bloomberg Businessweek.
Pretty amazing that Patagonia has grown so much during the recession. The founders believe that has a lot to do with customers relating to the company's values in addition to improved operations and global expansion.
Since 1996, Patagonia has used only organically grown cotton in its clothing line. Committed to making its products landfill-free and reducing needless consumption – even of its own products – it launched the Common Threads Initiative on eBay, where people can buy and sell used Patagonia clothes.
This is one of its ads: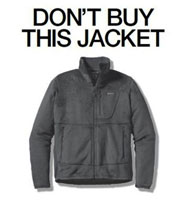 Yvon Chouinard founded Patagonia 40 years ago and was among the first to register it as a "California Benefit Corporation," when that become available for the first time last year.
It is a new class of corporation for businesses whose mission is to operate in an
environmentally and socially responsible manner.
In recent years, Patagonia has diversified beyond selling outdoor clothes. Patagonia Provisions sells organic and sustainably sourced food and Patagonia Media publishes books and media projects with an environmental focus.

The company has also pledged to avoid buying oil that comes from Canada's tar sands.
In 2002, Yvon Chouinard founded 1% for the Planet, a global network of businesses that donate 1% of sales to the environment. It has 1,400 member companies in 44 countries.
"I come from a very traditional background of private equity and public companies, and I really have seen for 25 years what that paradigm does, and I don't think it's that healthy," Marcario told Bloomberg. "We need a revolution in business, and we need business leaders to drive that revolution; otherwise we won't have a world worth living in. I think [the change] is not going to come from scientists or politicians or social activists."
(Visited 7,793 times, 24 visits today)